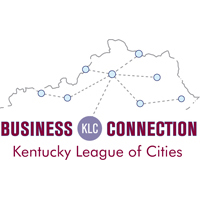 We can help businesses because cities are our business!

The Kentucky League of Cities (KLC) Business Connection program is a direct line to city leaders and municipal decision makers.

Launched in 2011, the KLC Business Connection is our clearing house for business related partnerships and opportunities.

For businesses that want to capture the municipal market, KLC is the one source. Our primary audience is our number one selling point to businesses because KLC is Kentucky's most valuable, trusted resource for more than 20,000 city officials and employees and more than $2.5 billion in annual purchasing power in Kentucky's 400-plus cities. And, KLC is the only organization dedicated to serving cities. Businesses that want to reach municipal customers need to reach our members!

Opportunities for Businesses
(FYI- Print that appears in BLUE signifies an active LINK.)

KLC Cornerstone Partner Program - This program is the foundation of a consistent, multifaceted connection to cities with yearlong opportunities.
Sponsorships - Help sponsor KLC events, awards, publications and more.

Exhibits - Exhibit at KLC events, held for different audiences (safety personnel, elected officials, etc.) throughout the year.
Advertising - (print and online) - Advertise in Kentucky City, KLC's official magazine or sponsor online publications.

Co-brand programs, products or services. KLC is interested in providing programs and services that benefit our members and our association.

With the KLC Business Connection, the sky's the limit. We are open to ideas and look forward to hearing from businesses anytime. For more information on the KLC Business Connection, download a detailed brochure (above) or contact Jeri McCullough at KLC for general information.

Businesses that want to reach municipal customers need to reach KLC members. We'll deliver results.