2019 KLC Mayor to Mayor Program - Matching Mayors to Learn from Each Other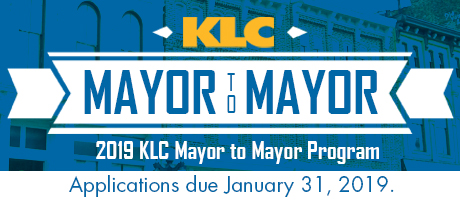 New mayor? Experienced mayor? This new service brings mayors from similar size cities together to share ideas and experiences. Sign up now to be part of the no-cost program.
What is the Kentucky League of Cities (KLC) Mayor-to-Mayor (M to M) Program?
Much like a mentor/mentee or peer-to-peer program, the Mayor-to-Mayor (M to M) Program is a volunteer matching service provided by KLC that pairs newly elected mayors with experienced mayors from across the state. Applications are due on January 31, 2019.
Who is eligible to participate?
Volunteer mentors can be any individual that has completed at least one term serving as mayor for a KLC member city.
Any newly elected mayor serving in his or her first term as mayor in a KLC member city is eligible to participate and work with an experienced mayor.
Why should mayors become involved in the program?
The program:
Provides a go-to person for newly elected mayors;
Provides networking opportunities;
Is an ideas exchange; and
Expands awareness of issues facing other communities.
New mayors will gain insight and troubleshooting tips from tenured mayors, and experienced mayors will gain insight and perspective from new mayors.
What are the requirements to join?
There are a few primary program guidelines for each participating mayor:
Visit each other's city a minimum of once a year.
Talk via phone or video chat at least once a month. A regular call day and time is suggested.
Participate in a 15-minute introductory conference call.
Communicate as needed via text, social media, etc.
What happens after a match is made?
Once KLC has paired an experienced mentor with a newly elected mayor, it is their responsibility to establish a relationship. The Kentucky League of Cites is solely responsible for pairing and tracking relationships. All events and activities must be arranged by the mayors themselves.
What is the term for a match?
While the goal of the Mayor-to-Mayor Program is to establish lasting professional relationships between mayors, the minimum commitment is one year for participants. At the conclusion of this term, both mayors are eligible to participate as mentors for future election cycles.
Interested? Contact Terri Johnson, KLC Director of Communications & Marketing at 859.977.3784 or tjohnson@klc.org