2019 City Officials Academy in Owensboro, January 23-25.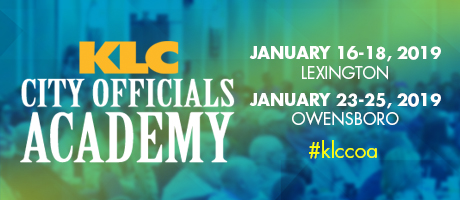 2019 City Officials Academy
Owensboro - January 23-25, 2019 - REGISTER

VIEW THE AGENDA.

Registration
$209 (Members)
$309 (Non-Members)

The Kentucky League of Cities (KLC) City Officials Academy (COA) is an intense two-and-a-half-day training packed with practical information to benefit city leaders in doing their jobs. Whether you are newly elected, newly appointed or a seasoned official seeking a refresher course on the basics, you are guaranteed to leave this training with information that will be useful to your work in city government. Topics include:
Ordinances, Orders & Resolutions
Open Meetings and Open Records Law
Parliamentary Procedures
Code Enforcement
Local Government Ethics
Planning & Zoning
Social Media and The First Amendment for Elected Officials
Personnel Law
Personnel Issues with Uniformed Employees
City Finances
Municipal Taxing Authority
Plus:
Legislative Overview
Forms of Government Breakout Sessions
Mini Sessions on Other Popular Topics
Networking with Other City Officials
Legal Trivia ...And Much More
Attendees will also receive a complimentary copy of the 2019 edition of the City Officials Legal Handbook, a $50 value, and "must have" tool of first resort for every Kentucky city.
Participants will be eligible for City Officials Training Center credit and/or Training Incentive Program (HB 119) credit. The program will be submitted for approval by the Kentucky Bar Association.