Salt Auction - Nearly 75 cities registered. Sign up before April 15!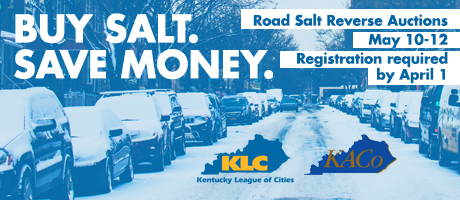 REGISTRATION DEADLINE EXTENDED TO APRIL 15.

The Kentucky League of Cities is again collaborating with the Kentucky Association of Counties to purchase road salt through the reverse auction process for the 2018-2019 winter season.
Auctions – May 10-12.
REGISTER.

This program is free with no obligation to purchase. All salt is delivered as needed. With questions, contact Chris Johnson cjohnson@klc.org or 800-876-4552.

Registered cities should be receiving their auction packet in a few days. If you do not receive one, please contact Chris Johnson at KLC.