Salt Auction. Check to see if your city is registered.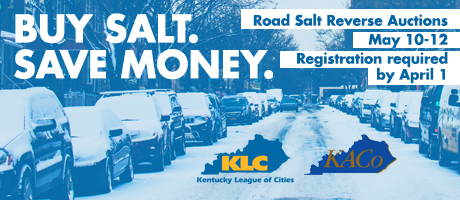 The Kentucky League of Cities is again collaborating with the Kentucky Association of Counties to purchase road salt through the reverse auction process for the 2018-2019 winter season.
Auctions – May 10-12.
Registration required by April 1.
REGISTER.

This program is free with no obligation to purchase. All salt is delivered as needed. With questions, contact Chris Johnson cjohnson@klc.org or 800-876-4552.

KACo/KLC Salt Cities
As of March 22, 2018 at 2:28 p.m., these are the cities that have signed up to participate in the KLC Salt Auction. If you think your city is participating and do not see your city listed below, please call Chris Johnson at 859-977-3709.
Alexandria
Anchorage
Ashland
Bardstown
Bedford
Berea
Campbellsville
Carrollton
Coal Run Village
Cold Spring
Cynthiana
Dayton
Elizabethtown
Elkhorn City
Elsmere
Eminence
Erlanger
Flemingsburg
Ft. Mitchell
Ft. Thomas
Franklin
Georgetown
Greensburg
Hardinsburg
Hazard
Highland Heights

Hillview
LaGrange
Lawrenceburg
Leitchfield
Madisonville
Middletown
Mt. Sterling
Morganfield
Murray
Owingsville
Russell
Russellville
Scottsville
Shepherdsville
Silver Grove
Simpsonville
Southgate
Springfield
Somerset
Southgate
Taylorsville
Versailles
Walton
Warsaw
Wilmore
Winchester