State Budget Director Testifies on Proposed Budget & Programs Slated for Elimination
Posted on
January 24, 2018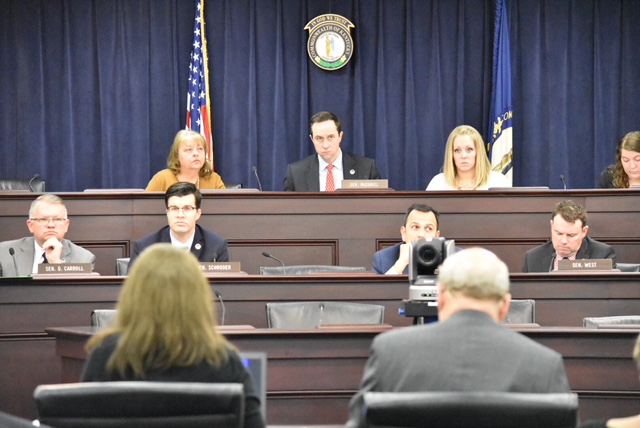 More warnings were offered Tuesday about the status of the state's budget for the next two years. State Budget Director John Chilton and other members of his staff appeared before the Senate and House Committees on Appropriations and Revenue. They provided more details on the budget proposal Governor Matt Bevin unveiled last week and answered questions from legislators. Chilton began the presentation by giving what he called the bottom line: "There are limited resources which require difficult choices. There is just not enough money to go around."
Senator Chris McDaniel (R-Taylor Mill), who chairs the Senate Committee, began the hearing by stating his view on the state's finances. "This will be the worst budget with which the Commonwealth has ever had to grapple," he warned. Chilton told legislators the main financial burden for the budget is pensions, which he indicated are still "severely underfunded." McDaniel said pensions are a requirement. "We made a commitment in 2013 to fully fund the Commonwealth's pension systems, and that is what we will do," he stated. Work on a possible pension reform bill is still underway, and no bill draft has yet been filed.
The governor's budget plan includes $161.3 million for pensions in Fiscal Year 2019 and $150.3 million for Fiscal Year 2020. Chilton testified that amounts to roughly 14 percent of the state's General Fund each year. Those numbers are only for the Kentucky Employees Retirement System (KERS), the Kentucky Teachers Retirement System (KTRS) and the State Police Retirement System (SPRS). The state does not directly appropriate any money from the General Fund for the County Employees Retirement System (CERS).
Chilton reminded legislators that contribution rates for most pension systems, including CERS, will increase sharply when the new fiscal year begins July 1. The Kentucky Retirement Systems (KRS) Board of Trustees approved drastic assumption rate changes in 2017 but did not phase in the increase. The Kentucky League of Cities is continuing to advocate for a phase-in of the rates and changes to the management of KRS in any possible pension bill this session.
Bevin's budget proposal calls for the elimination of 70 programs, which Chilton linked to an $85 million savings each fiscal year. He called the cuts a necessary move. "The purpose of doing that is to minimize the percentage cuts for the remainder of government," he claimed. "Unfortunately, we still had to apply a spending reduction of 6.25 percent across various categories in government." Chiton contended the 6.25 percent cut will generate another $300 million in savings each fiscal year.
Some senators questioned how the decision was made on which program funds to eliminate. Chilton replied that analysis was done by his office and at various state agencies. Senator Stan Humphries (R-Cadiz) voiced concern about how the loss of funding for some of the programs would impact local communities. "I think we have a lot of concern about the 70 that were cut," he commented.
Chilton noted the budget also included $69.6 million in Fiscal Year 2019 and $74.3 million in Fiscal Year 2020 for what are known as necessary government expenses (NGEs). These are funds set aside for disasters, fire suppression and other unexpected costs. Chilton pointed out the budget also allocates $62.4 million in Fiscal Year 2019 and $183.4 million in Fiscal Year 2020 for the state's rainy day fund. Chilton showed that fund currently has an $8.1 million balance, way below the $550 million he indicated the state should have in the fund.
Greg Harkenrider, deputy executive director for the Governor's Office of Economic Analysis, testified the state had 11.2 percent growth in December. He asserted the amount was "good growth," but said it may have been due to payments made earlier than expected and could be complicated by the new federal tax cuts.