Governor Bevin Releases Budget Proposal
Posted on
January 17, 2018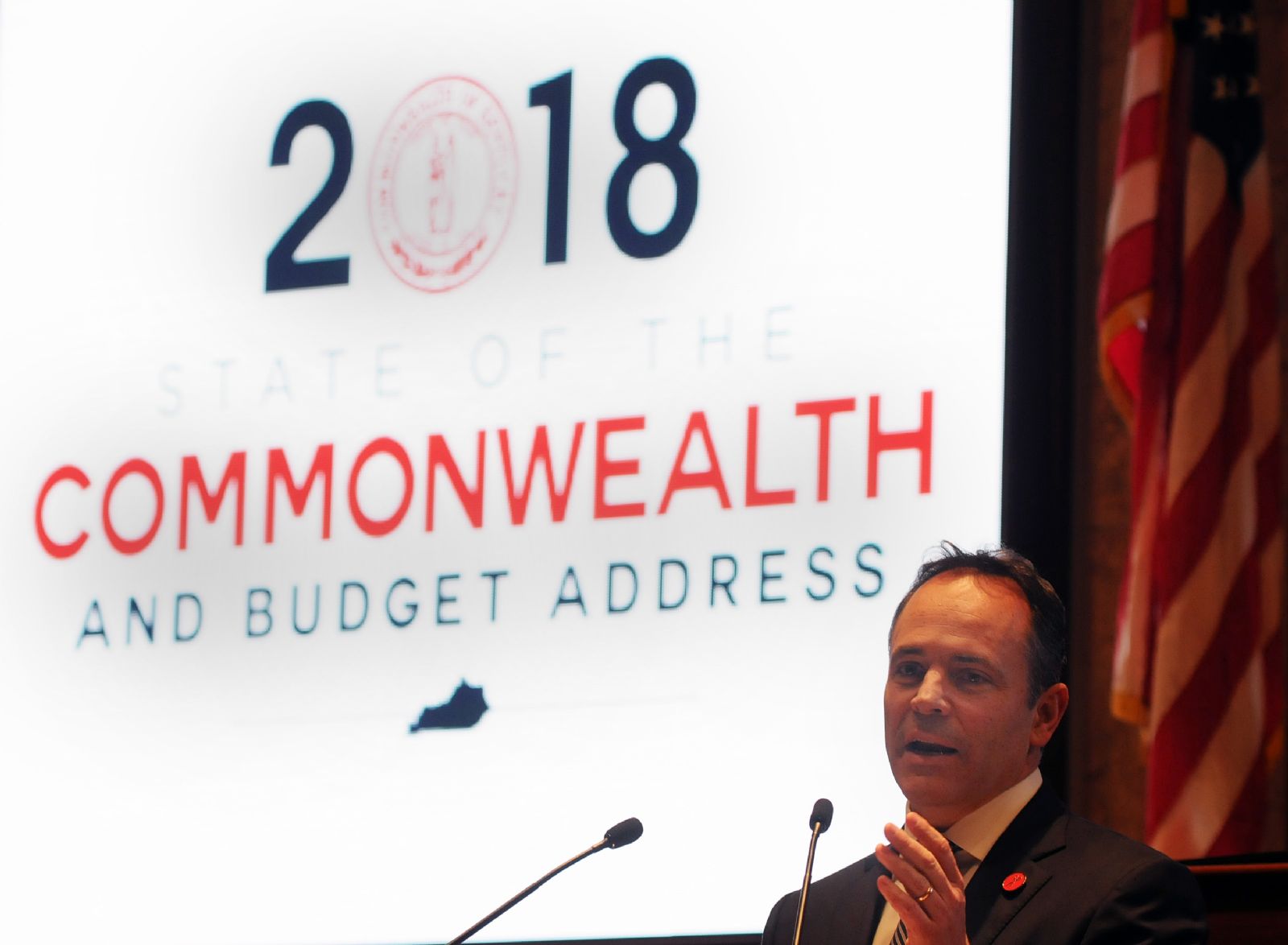 Promising to get the state's financial house in order, Governor Matt Bevin outlined his proposed two-year budget plan during a Tuesday night speech before a joint session of the House and Senate. This year, the governor's State of the Commonwealth and budget address were merged into one speech. Governor Bevin told the crowd the two are one and the same. He pledged to focus on the following priorities in 2018: pension reform, improving the foster care system, fighting the state's opioid crisis, investing in education and workforce development, reforming entitlement programs, investing in public safety, reforming the criminal justice system and instituting tax reform. It was a lofty list that the governor funded by proposing to eliminate 70 programs and reduce spending across the board by 6.25 percent.
The governor advised legislators that the proposed statewide budget reduction is "a whole lot less than it would have been." He promised to fund the state's pension systems and not cut SEEK (Support Education Excellence in Kentucky) funding for public education. The governor's proposed budget continues to provide $3,981 per pupil in SEEK money to public schools. But, the governor warned that money will have to come from somewhere, telling schools they need to cut administrative salaries and costs. He also wants school systems to contribute more money for transportation. Bevin claimed school systems, combined, have nearly a billion dollars in reserves and need to tap into that money to bridge the gap.
Among the governor's proposed projects for 2018 is a renewed focus on the state's growing drug problem. "This opioid crisis is exploding. It's not getting better," the governor said. His budget provides $34 million in tobacco settlement funds for the opioid epidemic. The Kentucky League of Cities supports legislation that addresses the drug problem in Kentucky as it continues to have a major impact on the quality of life in Kentucky's cities.
Bevin also talked about investing in law enforcement by providing more automobiles and modern weapons for the Kentucky State Police. His budget also includes $4,000 in training incentive pay for police and fire each fiscal year, but does not provide reimbursement to cities for the administrative costs. These costs could add up to a $5 million bill for cities every year. KLC is seeking legislation that covers the costs for cities and codifies the incentive pay amount, a proposal supported by groups representing police and firefighters.
While speaking about increased law enforcement funding, the governor also promised to reduce the costs of incarceration. "We are not going to spend another dollar to build another prison here in Kentucky," he stated. He also vowed to spend $24 million to hire more people and increase pay for the state's social workers and add $10.8 million for adoptive and foster care programs in the state.
The commitment of increased funding for some programs meant cuts or defunding for others. "Something has to give," the governor informed the crowd. Bevin's budget chops 70 state programs. Among the programs the governor proposes to defund are: the Kentucky Commission on Women, area development funds, nonconstruction aid to local libraries, local conservation districts, the cafeteria at the Capitol Annex and two other state buildings as well as the Kentucky Transportation Center. There are also various programs at state universities and within the Department of Education. The Lexington Herald-Leader has compiled a list of all 70 programs slated for elimination.
Governor Bevin wants to increase the state's rainy-day fund and says tax reform will come this year, even if it requires a special session. "Modernizing our tax system is something we have got to do," he said. "We will, in 2018, address tax reform, and it's not simply going to be, as some would have it to be, just raising taxes." The Kentucky League of Cities believes various tax systems need modernization. Cash-strapped cities are looking to the legislature to update an antiquated system that leaves local governments with limited revenue options. A top priority this session is to update the road funding formula in Kentucky, most of which hasn't changed since 1948. The League is also advocating for legislation that expands the option of a local restaurant tax to all cities, something that is currently only available to former fourth and fifth class cities.
In his speech Tuesday night, Governor Bevin repeated his statement that pension reform is a dire financial requirement. The governor told legislators tax reform and pension reform could lessen some of the budget reductions. The governor's proposed budget includes $3.31 billion over the two-year period for state employee and teacher pensions. It does not include any General Fund support for retiree or teacher health insurance. KLC's top legislative priority this session is separation of the County Employees Retirement System (CERS) from the Kentucky Retirement Systems (KRS). CERS does not receive any direct appropriations from the state budget and was not discussed Tuesday night. Separation would allow CERS employers and members to manage the local money that goes into local pensions.
You can access the entire 368-page proposed budget here, or go to the Office of the State Budget Director's website to view all the 2018-2020 budget documents. Representative Steven Rudy (R-Paducah) filed the budget as House Bill 200.