Senate President Says Pension Bill In The Works
Posted on
January 3, 2018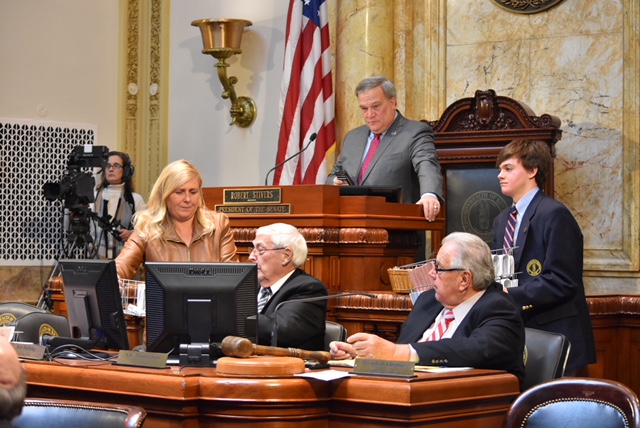 Members of the House and Senate convened Wednesday for the second day of the 2018 session. This time each chamber assembled for less than an hour. Most of the activity in day two focused on filing bills and amendments and organizing committees. Legislators did attend sexual harassment training this morning, before they convened at 2:00 p.m. EST. So far, no pension bill has been filed and there's no indication as to when it may be submitted.
Senate President Robert Stivers (R-Manchester) told reporters after the Senate adjourned for the day that he hopes to have a pension bill soon. He could not say if it would be filed before the governor's budget address later this month. He promised the public would be given time to consider the new draft. "We'll have ample opportunity for people to review and understand what the respective bill is," he said.
As to what the bill may contain, Stivers would not provide specifics. "We want to see, based on scenarios how an actuary scores it, before I say this will be in it or that will be in it, because we may do something and when an actuary looks at it says, 'Well, it doesn't do what you think it does.'" He indicated that suggestions and concerns raised since the original bill draft's debut in October have been taken into consideration in the new version. When asked if a 401(a) plan would be in the works for future and current employees going forward, Stivers simply commented, "I don't see current employees."
Governor Bevin has maintained the pension bill must be first on the agenda for legislators returning to Frankfort this week, but Stivers is not worried about the timing. "We've dealt with big issues and singular issues and multiple big issues, and it's nothing new when you're dealing with a transportation budget, the general fund budget and everything else that comes out of a long-year session where the budget is naturally the ultimate policy document."
When the new pension bill draft is released, Stivers contends it will include updates that show legislators have taken into consideration input provided from different legislators and groups since the original draft's release. The Kentucky League of Cities (KLC) is continuing to advocate for pension reform to address management issues with the County Employees Retirement System (CERS). KLC is also seeking a phase in of drastic assumption rate changes the Kentucky Retirement Systems (KRS) Board of Trustees approved in July. Separation of CERS from KRS is also the top legislative priority for KLC this session.
While actuaries work to score the new bill, Stivers says legislators are formulating a plan for how it will be introduced. He noted the bill will have a singular sponsor and stated that talks are currently underway with House leadership on who that will be. "There is going to be a discussion as to where the pension bill starts, and when, before it gets introduced."
For now, the legislature is awaiting the actuary's report, something Stivers hopes is back soon. However, he admits that it's not a definitive date. "Soon is a relative term — it could be today, it could be tomorrow, it could be when we come back next week."
In the meantime, legislators are taking up other issues. More than 130 bills have already been filed. Senator Stivers expects a lot to be accomplished this session, but he cautions against high expectations when it comes to tax reform. "Discussions have been had, already in the first two days, about what the status of tax reform may be," he remarked. "There may be some type of tax reform, but if it's going to be comprehensive, I don't think it's going to be done during this time."