2018 Session Gets Underway With A Big Agenda
Posted on
January 2, 2018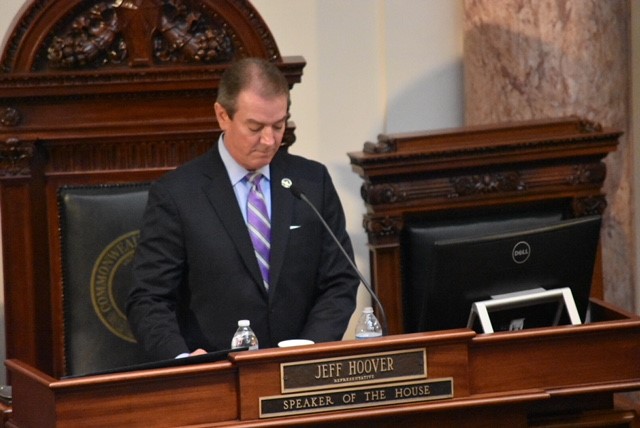 Members of the House and Senate gaveled into session Tuesday for the 2018 Regular Session of the General Assembly. Both chambers convened at noon. The Senate adjourned just before 1:00 p.m. EST. The House met into the afternoon, with Speaker Pro Tem David Osborne (R-Prospect) proceeding over the chamber. Speaker Jeff Hoover (R-Jamestown) did not resign his leadership position. Instead, the House Clerk read a letter from Hoover in which he stated that he asked Representative Osborne "to serve, as the Rules of the House of Representatives provides, as the presiding officering until future notice." Legislators are expected to take up several key issues this session, with pension reform topping the list.
Prior to convening, Governor Matt Bevin spoke on the radio Tuesday morning and vowed to pass pension reform this session. The governor told Leland Conway, on WHAS Radio, that he continued to discuss pension reform with lawmakers in the days leading up to the session opening. "I've spoken at length to them throughout the end of this last year and even coming into this new year, and it will, without question, be part of what we do out of the gate here in this new session," he vowed. "There's work yet to be done on a variety of things, as they start the new session, but the pension, itself, will be top of the list."
Pension reform has been discussed since the governor, Senate President Robert Stivers (R-Manchester) and House Speaker Hoover unveiled a pension reform proposal in October. Various aspects of the draft raised concerns, and supporters of separating the County Employees Retirement System (CERS) from the Kentucky Retirement Systems (KRS) pointed out separation was not included in the draft. Governor Bevin said revisions and debate that have occurred since that time have resulted in changes to the original plan. "There have been many discussions since that proposal was put out and there have been some changes and modifications, some of which actually do make it better in my estimation, and I think those will be ones that will be discussed as the legislature gets underway this year."
In addition to the governor's hope for pension reform, the legislature is required to pass a budget this session. In his last news conference of 2017, Governor Bevin warned the budget was "going to be a doozy." Last week he ordered budget cuts to make up a $156 million budget deficit for this fiscal year. This will be the first budget drafted under a Republican controlled House, Senate and governor.
Legislators have also said they hope to pass tax reform this year but have conceded that may have to take place in a special session. Governor Bevin told WHAS Radio pension reform needs to come before tax reform, calling it "a bad idea" to tackle taxes without pension changes. "If you want to just start raising taxes and throwing money in holes without knowing how deep the holes are, without having capped off the leaks — I think that's a huge mistake," he said. "Anything is possible, I just think that would be a bad idea, and I don't think anyone in the legislature intends to see that happen."
KLC is continuing to advocate for separation of CERS as the pension reform debate begins in the legislative session. The League is also working to pass legislation that modernizes the state's road funding formula. The 2018 KLC Legislative Agenda also includes efforts to end unfunded mandates and pass legislation that allows all cities to vote to enact a restaurant tax for community development. You can read more on the KLC Agenda here.
The 2018 Regular Session of the General Assembly is slated to continue through April 13. Both the House and Senate will reconvene Wednesday at 2:00 p.m.
House Majority Leadership voted this afternoon to appoint Representative Ken Upchurch (R-Monticello) as Chair of the House Standing Committee on Transportation. He will replace Marie Rader, who resigned in December.