Governor Bevin Calls 2017 a Success But Warns 2018 Will Bring Challenges
Posted on
December 21, 2017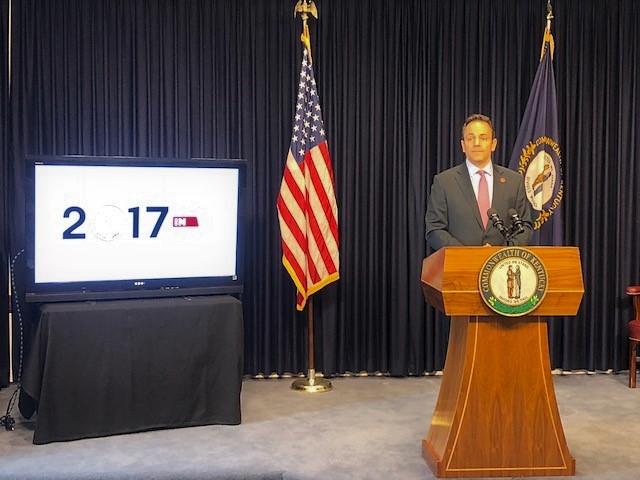 Governor Matt Bevin reflected on 2017 in a Thursday morning news conference at the state capitol. He labeled the year a success. The governor pointed to reforms, such as right-to-work, repeal of the prevailing wage law and passing of a criminal justice reform bill as huge advances for the state. Governor Bevin even called House Bill 1, the right-to-work bill passed in the 2017 Regular Session, "one of the most impactful, significant things that have ever been done by the legislature of Kentucky." It was a KLC initiative for 2017, as was repealing the prevailing wage and criminal justice reform. After outlining the year's list of accomplishments, Governor Bevin then detailed the work he says still needs to be done in 2018.
Pension reform is among the governor's top agenda items for next year. Earlier this year he said it would be handled in a 2017 special session, but Thursday morning Bevin acknowledged that is no longer an option. "Logistically, I don't know how it's possible," he said. Still, the governor promised legislators are "absolutely committed to this." While he called a special session this year "impractical" he also continued to state the pension bill needs to be passed before the budget session. "It is still the intent to get it done in advance of the budget session, it will just be done at the front end of it."
In looking to 2018, Governor Bevin outlined several big issues he said Republican leadership plans to address. "We've got pensions to resolve, we've got taxes to modernize, we've got a budget that's going to be a doozy. All these things are yet to be done and have to be done." He warned the budget is going to be an unwelcome reality for a lot of people. "The $1.2 billion that caused everybody to complain and cry and weep and gnash their teeth over the way we had to restrict the budget the last time, and the cuts we had to make last time — that was child's play compared to what's coming." Bevin pointed out this will be the first budget drafted by a Republican House, Senate and governor.
Before they take up a new budget, reductions are still expected for the current spending plan. Last week, State Budget Director John Chilton said recommendations for cuts would be "coming soon." Thursday, the governor confirmed they are in the works. "This is something I continue to work on with my budget director." Bevin says the current budget shortfall, which sits at $156.1 million, will be reevaluated again before the end of the current fiscal year. He cautioned, however, that cuts will be across the board. "Things that have been exempted are not necessarily going to be exempt because we can't afford it."
While pensions and the budget may dominate the conversation in 2018, Bevin vowed the state's opioid crisis will also get attention. He said the state is going to be more aggressive about requiring that information on prescribed controlled substances be provided to KASPER (Kentucky All Schedule Prescription Electronic Reporting System) and that the state plans to ensure doctors follow the requirements of House Bill 333, passed in the 2017 session. It limits the number of narcotics a doctor can prescribe to a three-day supply. "There is an expectation, by law, people are supposed to put in exactly what they're prescribing, to whom, the volumes and the reasons, and we're going to make sure that's being done and if it isn't there are going to be consequences to that," he stated. The Kentucky League of Cities has prioritized efforts to battle the state's drug crisis as one of its top agenda items for 2018.
The legislature is scheduled to return to Frankfort January 2 and the session is slated to continue through April 13. Governor Bevin and several legislators have indicated tax reform may have to be addressed in a special session later in the year.