Legislative Leaders Admit They Have Ambitious Agenda for 2018 Session
Posted on
December 20, 2017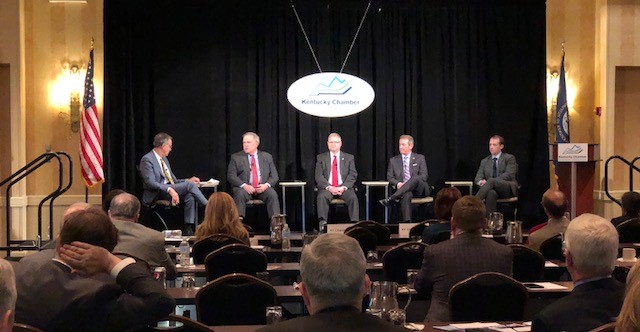 The 2018 legislative session begins in just days and leadership within both the House and Senate say they're expecting a busy three months. Pension reform will now be top of the agenda but legislators also need to pass a budget bill and they hope to tackle tax reform next year. Acting House Speaker David Osborne (R-Prospect), House Majority Floor Leader Jonathan Shell (R-Lancaster), Senate President Robert Stivers (R-Manchester) and Senate Majority Floor Leader Damon Thayer (R-Georgetown) spoke Tuesday afternoon at the Kentucky Chamber Legislative Preview Conference. All four admitted the agenda is ambitious but believe they're ready to take on the issues.
Legislators and Governor Matt Bevin had hoped to deal with pension reform in a special session this fall, but opposition to the bill draft released in October resulted in redrafts that have taken months to iron out. Tuesday, all four legislators said they expect pension reform to be priority number one when they convene January 2. "I think we are at a point in time that we can react quickly in the first few weeks of the session," promised Stivers. Representative Osborne agreed. "I think the process is substantially complete. We have a pretty good product that we can put our arms around. I think we will be ready to act the first part of the session."
A new pension bill draft could be released before the end of the year. Senator Stivers told the crowd he hopes to have it scored before Christmas. Senator Thayer did reveal the plan would include employees hired after July 1 moving into a 401a plan and other changes that he indicated were outside the inviolable contract. "Hopefully we'll be able to get savings out of the changes on the items not covered by the inviolable contract so that the cuts that are coming won't be as severe," he said. Those cuts could come in a budget bill, which all legislators attending the conference warned would be lean.
Regardless of the details of any pension bill, lawmakers acknowledged the increased pension costs brought about by drastic assumption changes made by the Kentucky Retirement Systems (KRS) Board of Trustees in July will result in a bigger bite being taken out of the General Fund. Representative Shell stated the impact to the budget will be heavy, regardless of any reforms passed. "We have made the decision to go to level dollar funding, so anything we pass is going to cost more money and I think that's key for everyone to understand. Those decisions have been made by the Board which governs these systems, it wasn't done by any legislative leader up here or anybody that voted on that from a legislative standpoint… and so what we have to do now is operate under the assumption that we have to pay that."
Where cuts will come from was also a topic of discussion. While all legislators voiced concern about protecting education funding, Senator Thayer was clear the reality may not make that possible. "I think it's pretty unlikely that SEEK is going to be untouched in the next budget. The question is how much." SEEK (Support Education Excellence in Kentucky) is a formula used to determine how much state money is given to local school districts. Thayer mentioned that 60 percent of the state's budget goes to K-12 education. Representative Shell said the math in the 2018 session will not be easy. "It is going to be a priority for us in the House to put as much money in there as we can for education, but we have a very grim reality."
With budget shortfalls this year and the projected cuts in the upcoming session, legislators also talked about tax reform and the need for additional revenue. Senator Stivers made it known that he was not for passing any tax increase until the government was operating at its most streamlined and efficient. Members of leadership all believe the state's tax code needs to be modernized. For Speaker Osborne, the goal is to look at the big picture. "What we've got to do is identify the absolute best tax system we can put in place." Senator Thayer was direct in his belief that just adding new income streams won't fix the problem. "I don't think we can smoke, tax or gamble our way out of this pension problem."
Getting tax reform accomplished in the Regular Session may be a tall order. Senator Thayer didn't give the possibility high odds. "If we can get out of this session by Friday, the 13th of April, which is the constitutional day we're currently scheduled to adjourn, if we can get out of there with pension reform, a budget and a road plan, I think it's a success." In an earlier session on budget and tax reform, Senator Chris McDaniel (R-Taylor Mill) also saw it as a tall order. "It might be too much, but we'll see."
Several other panels held at Tuesday's conference addressed other topics legislators hope to address in the session, from criminal justice and workers' compensation reform to fighting the state's opioid epidemic. There was also discussion Tuesday on the need to modernize the state's road funding formula that's been in place since 1948. Speaker Osborne conceded the formula is deeply flawed.
Modernization of the formula is a top priority for the Kentucky League of Cities (KLC). Because the formula is outdated, a high percentage of gas tax revenue collected in Kentucky goes to areas that are not seeing the population growth. There was a discussion of Kentucky needing to add a factor to the equation that looks at ensuring road dollars go to areas with more traffic. KLC is proposing money above $825 million be divided between incorporated and unincorporated areas based on populations and road mileage. That is the amount collected in 2014 when Kentucky had its highest gas tax receipts in ten years. Representative Sal Santoro (R-Florence) pointed out it's time to discuss a change. "Our state is now recognized as an urban state," he observed. "We just have to understand that this needs to be looked at. I'm open to discussion on it."