Kentucky Work Matters Task Force Finalizing Recommendations
Posted on
December 1, 2017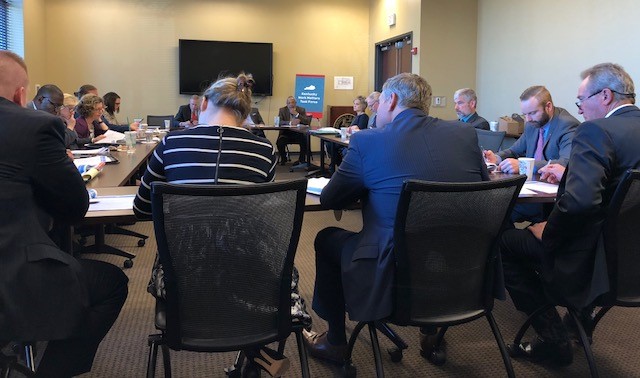 Close to six months after the governor announced the formation of a Kentucky Work Matters Task Force, the group is drafting a report that includes policy recommendations. The task force met Tuesday morning to go over a 14-page draft. Among the topics of discussion was how to get more people with disabilities into the workforce, how to provide more employment opportunities for people leaving the criminal justice system and how to employ more veterans and people coming out of the state's foster care system. Members of the group addressed several concerns and possible obstacles, including the state's ongoing pension problems.
While the panel drafted several recommendations for improving employment opportunities, Personnel Secretary Tom Stephens also pointed out the reality of the current job climate in state government. "I think one of the challenges you'll find is, overall, we are in a very significant negative hiring environment," he noted. "As you all know, that directly relates to the situation we find with the retirement system." Secretary Stephens informed the committee that the required contribution rates for nonhazardous duty employees will effectively eliminate any growth in that sector. "We need substantial cuts in state employment to make the budget numbers that are projected for next year right now; like, thousands of positions," he told the task force. "So, I would want to temper expectations."
Members talked about ways state government can improve workforce development within the private sector. Workforce Investment Commissioner Beth Kuhn remarked on the need for improved communication between various state cabinets. The task force also recognized the hurdle transportation creates for many people looking for employment who live outside large urban areas. Workforce development is part of the Kentucky League of Cities economic development agenda for the 2018 legislative session.
Justice and Public Safety Secretary John Tilley addressed specific employment concerns for people reentering society from the criminal justice system. He updated the group on various opportunities already in the works and recognized Senate Bill 120, passed in the 2017 Regular Session. The criminal justice reform bill was a KLC priority and included some workplace initiatives. Secretary Tilley now hopes to see legislation that protects employers. "I think it's time for legislation to create a presumption that simply says, if you do these certain things as a private employer, there's a presumption against negligent hiring. That would be a signal to the private sector employers in our state that we're serious about this." He stated such a bill could be more beneficial than tax credits to some employers.
Senator John Schickel (R-Union) told the group he believes soft skills are key to improving the employability of people leaving the criminal justice system. "This is a passion of mine," he said. He questioned if the state should set certain expectations for grooming, dress and behavior for people incarcerated to help them prepare for employment after they're released.
The task force also talked about the need to provide more credit for veterans for learned life skills. According to Secretary Derrick Ramsey, the Labor Cabinet is working with the Department of Defense to ensure higher education and work training credits are provided to veterans. The committee also addressed proposals to help children who age-out of the foster care system obtain employment. Health and Family Services Secretary Vickie Yates Brown Glisson believes that starts with "engaging good quality foster parents and engaging them in the system."
Governor Bevin announced the formation of the 23-member task force back in June to identify employment barriers for Kentuckians with disabilities, foster children, disabled veterans and people with criminal records or substance abuse problems. Adam Meier, deputy chief of staff for Governor Bevin, told members he sees the report and its recommended changes as a menu of options for state leaders to consider.