KLC Presents 2018 Legislative Agenda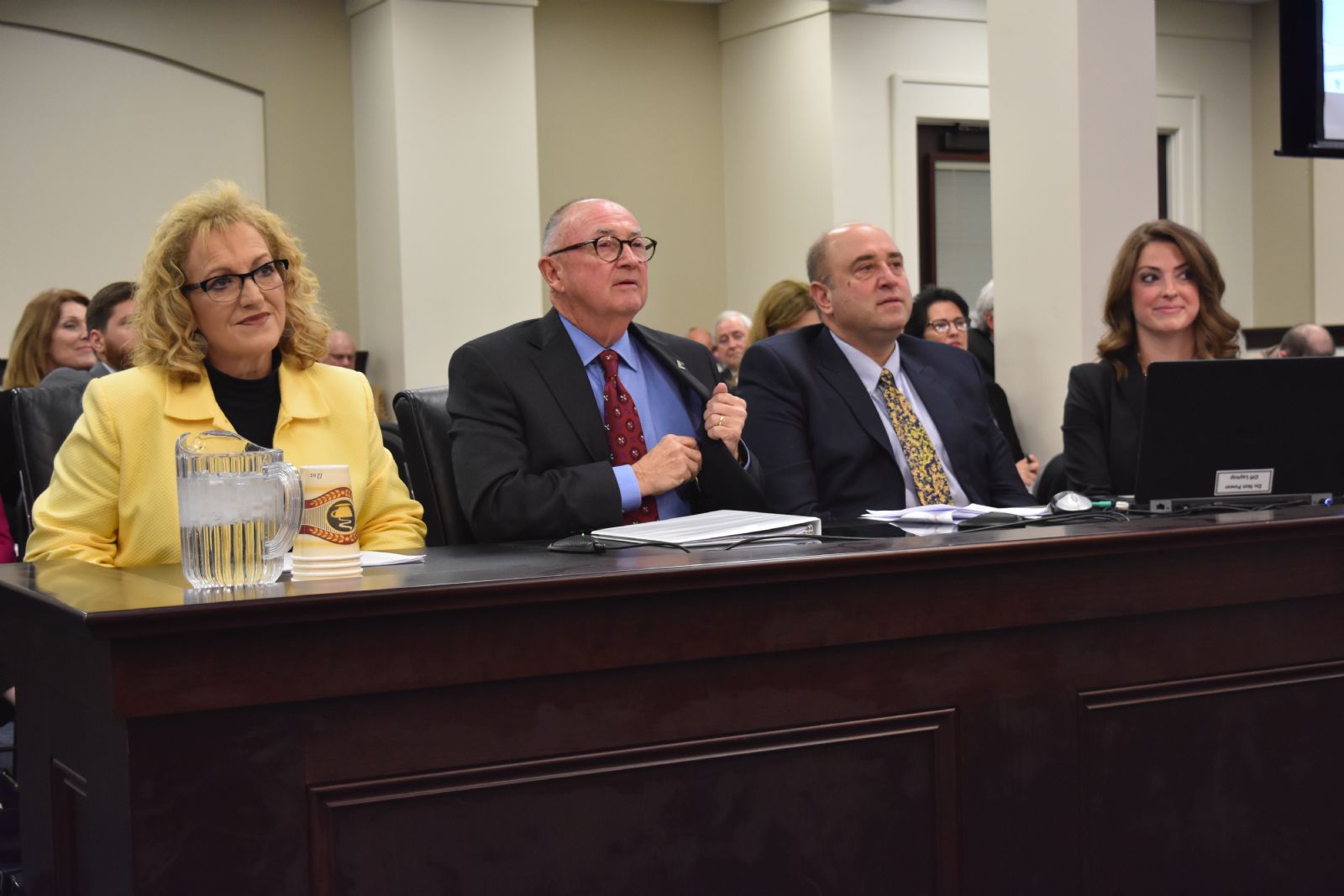 The Kentucky League of Cities is preparing for the 2018 Regular Session of the General Assembly. Wednesday morning, KLC leadership presented the League's legislative agenda to the Interim Joint Committee on Local Government. KLC Executive Director/CEO Jonathan Steiner, President and Richmond Mayor Jim Barnes and First Vice President and Mayfield Mayor Teresa Rochetti-Cantrell outlined the top priorities the KLC Board of Directors approved in October. Steiner told members of the Committee the 60-member Board "is united in continuing to ask members of the legislature to support home rule, as we have every year in our 90-year history."
With the looming pension bill and the boom in city populations, cities in Kentucky need new revenue options. "We need good leadership to move the commonwealth ahead," Mayor Barnes testified. He detailed how city populations in Kentucky have increased; up 4.7 percent since the 2010 decennial census. That same period saw a population decrease of 0.6 percent for unincorporated areas. A majority of Kentuckians now live in incorporated city limits. Cities need more flexibility to generate income to finance the growing demand for services and infrastructure.
Cities are also looking for more control of the local tax dollars that make up the County Employees Retirement System (CERS). Separation of CERS from the Kentucky Retirement Systems (KRS) is KLC's top priority for the 2018 legislative session. Mayor Barnes explained CERS retirees are not collecting lavish checks. The average nonhazardous CERS retiree earns $11,264 while the hazardous retiree, who pays more into the system, averages $25,143 a year. The KLC Board believes separation is the best path forward for local retirements. Mayor Barnes told legislators the message is simple, "Allow us to manage our self-funded pension."
Separation was before the 2017 Regular Session of the General Assembly with Senator Joe Bowen's Senate Bill 226. Senator Bowen (R-Owensboro) co-chairs the Interim Joint Committee on Local Government. On Wednesday, Mayor Barnes thanked Senator Bowen "for standing up for us." The bill creates a new Board of Trustees for CERS management and investments. Three members would be required to have 10 or more years of retirement management experience, three members would be required to have 10 or more years of investment experience and three would be elected by the CERS membership. The Board would be immune from political influence, regardless of future elections, because there would be no gubernatorial appointees.
Creation of a new CERS Board of Trustees would also curb administrative expenses paid to the Kentucky Retirement Systems (KRS) by CERS. Currently, CERS is 63 percent of the membership in KRS, so it pays 63 percent of KRS administrative expenses. That added up to more than $20 million in Fiscal Year 2016. Other independent boards, like the Teachers Retirement System (TRS), spend much less. The state does not directly appropriate any money from its budget to the CERS actuarially required contribution (ARC). CERS employers have always paid the amounts they were required to pay. The new CERS Board would still report to the Public Pension Oversight Board.
Mayor Barnes also summarized KLC's other top legislative priorities, including the modernization of the road funding formula. The KLC Board is proposing an update to the outdated law to ensure booming cities receive a fairer proportion of new state gas tax revenues. Most of the current formula was created nearly 70 years ago, when one-third of Kentucky was considered urban. Two-thirds of the state is now urban. Cities have a lot more roads to take care of and a lot more people driving on them than they did in the 1940s.
The proposal is to use a new formula for any proceeds above $825 million, the amount seen in Fiscal Year 2014 when the Road Fund had record receipts. Money above that would be divided based on population and road mileage. The change would not take resources from county coffers, but it would increase distributions that cities use to maintain local streets and bridges from 15 percent to nearly 36 percent.
Other legislative priorities presented on Wednesday include a request for a constitutional amendment or state statute to prohibit unfunded mandates on cities. State laws passed in Frankfort that require local governments to spend local tax dollars put a strain on already stretched budgets. Mayor Barnes also told the Committee cities would like equal treatment when it comes to the ability to enact a restaurant tax. Some cities in Kentucky can enact such a tax, while others are prohibited. "The City of Berea has a restaurant tax," he pointed out. "I'm 10 miles from them, and I can't have it. I can't grow my city, recreation and other things, because I'm out of funds."
The proposition is to allow cities that vote to enact a restaurant tax to retain up to 75 percent of the earnings for use on infrastructure projects that boost tourism, recreation and economic development. The local tourism commission would collect the remaining 25 percent for marketing, branding and promotional activities. Tourism commissions in cities allowed to enact a restaurant tax currently get 100 percent of the assets but can only use the money on marketing. Expanding the options to every Kentucky city could boost tourism commission funds from $22.7 million to $47.5 million statewide.
Mayor Rochetti-Cantrell outlined the remaining agenda priorities including economic development, amendments to the workers' compensation law, a push to modernize publication notice requirements and the need for guidelines for the availability of body camera footage through Kentucky's Open Records Act. The KLC Board is also seeking a constitutional amendment to allow cities to impose a local sales tax and is continuing to advocate for solutions to the state's drug abuse epidemic.
In the end, Mayor Rochetti-Cantrell reminded legislators cities are important to the prosperity of the state. "Our success goes hand-in-hand," she said. "When cities succeed, Kentucky succeeds."