Transportation Cabinet Testifies Road Fund Income Falling Short
Posted on
November 14, 2017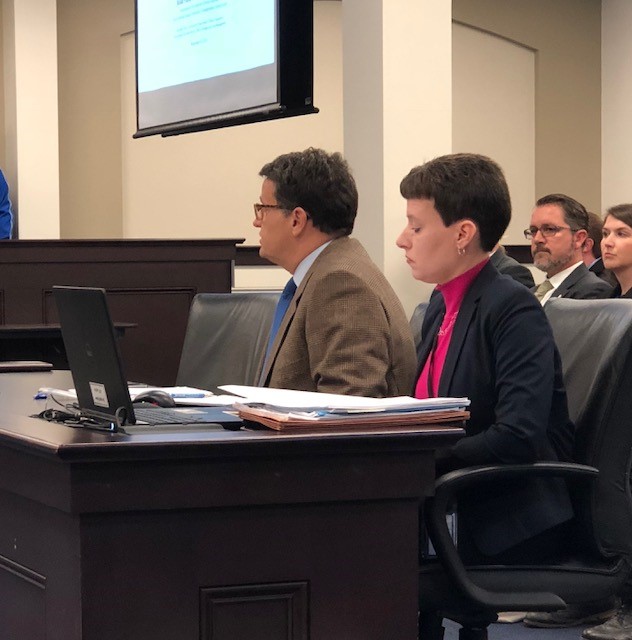 Kentucky is struggling with a decline in motor fuels tax earnings, a languishing Road Fund balance and a stagnant federal fuel excise tax. That glum picture was painted Tuesday morning by the Transportation Cabinet for members of the House Working Group on Kentucky's Transportation Infrastructure. The Cabinet also detailed several transportation fees that are significantly less than what other state's charge. "We have, historically, road fund spending that's in excess of revenues and a resulting erosion of the Road Fund cash balance," cautioned Kentucky Department of Vehicle Regulation Commissioner John-Mark Hack. Tuesday's presentation also showed how Road Fund dollars are being funneled to other agencies.
The motor fuels tax is the largest source of income for the Road Fund, accounting for 50 percent. There has been no significant change to the motor fuels tax since the 1980s. The current rate is 26 cents a gallon. Of that, 24.6 cents go into the Road Fund, where 48.2 percent is split between counties and cities through formulas adopted in 1948 and 1972. Most of those assets are allocated using a formula of fifths that heavily favors unincorporated areas, which had a higher proportion of citizens 69 years ago. Since that time, urban populations in Kentucky have increased 148 percent.
When compared to neighboring states, Kentucky's gas tax is roughly in the middle. Indiana, Ohio and West Virginia all have higher taxes. Indiana, West Virginia and Tennessee recently increased their motor fuels tax.
The second largest income source for the Road Fund is the motor vehicle usage tax. It's currently at 6 percent, a rate set in 1990, and is collected by the county clerk when you register a vehicle. It currently accounts for $495 million of Kentucky's Road Fund. The Road Fund also includes earnings from vehicle regulation and permit fees. Hack showed members of the Working Group that many of those fees are well below amounts charged in neighboring states. For instance, Kentucky charges $40 for a driver to have his or her suspended license renewed, while Indiana charges a graduated cost that starts at $250. Kentucky charges $3 for driver history records while Virginia charges $13. Hack testified there are also several services Kentucky provides for no charge: written, vision and road driver testing; late driver license renewal; late motor vehicle registration renewal and mandatory insurance law violations.
While the Transportation Cabinet and local governments struggle to maintain roads with stagnant funds, approximately $144 million of Road Fund receipts are dedicated to other agencies. Robin Brewer, the executive director of the Transportation Cabinet's Office of Budget and Fiscal Management, warned legislators, "As that number increases year after year, there could be potential consequences to that." Brewer showed members of the Working Group 37 different expenditures from the Road Fund, from $74.5 million for the Kentucky State Police to $8,100 for electricity at Berry Hill Mansion, a meeting and special events facility in Frankfort that's owned by the state. Brewer noted the expenditures account for a combination of things including, "Road funds that have been put into an executive branch budget bill, that are direct appropriations to those agencies. It's also a combination of fees that we've paid in exchange for some type of services to those agencies."
When asked by members of the Working Group, Hack maintained that the Cabinet was only presenting information at Tuesday's hearing. "Our task was to present the data, we're not prepared today to enter into any specific recommendations," he said. The Kentucky League of Cities did make a recommendation last month to help local road funds. KLC Deputy Executive Director J.D. Chaney testified before the Working Group on a proposed formula of halves that would provide a fairer allocation of new gas tax returns. The proposition more evenly parcels out proceeds above the total collected in Fiscal Year 2014, when Kentucky saw its highest gas tax revenue in decades, to areas based on population and road miles. It's a distribution that takes into consideration high-traffic areas that local governments must improve and maintain without taking funds from county coffers. "Essentially, we are holding harmless the dispersal of local receipts for county governments to the $825 million limit," Chaney testified at the October hearing. The new plan would still favor counties, with roughly 64 percent allotted to areas outside cities and 36 percent designated to avenues inside city limits.
Tuesday's meeting also included discussion on public transit funding in Kentucky. Andrew Aiello, general manager of Transit Authority of Northern Kentucky (TANK), stated there are 35 public transit systems in Kentucky. In addition to TANK, there are large transit systems in Lexington and Louisville. Six smaller urban systems operate in Ashland, Bowling Green, Elizabethtown, Frankfort, Henderson and Owensboro. There are 26 additional suburban and rural systems.
Aiello forewarned the loss of toll credits, set to expire around the year 2020, will cost these systems millions in matching federal funds. "The toll credit cliff is a significant challenge," he observed. He told legislators the loss of those credits would require the state to increase its funding from $2 million to $10 million. The bulk of public transit funding, more than $100 million, is generated through local communities.