Preliminary Analysis of Kentucky Pension Reform Bill Not Released
Posted on
November 17, 2017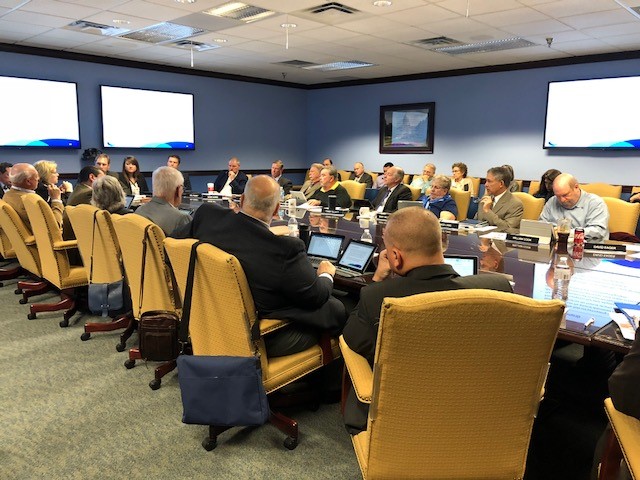 A preliminary actuarial analysis is complete on the proposed pension bill draft released two weeks ago. Despite "actuarial analysis of pension reform bill" being on the agenda for Monday morning's meeting of the Kentucky Retirement Systems (KRS) Board of Trustees, it was not made public. State Budget Director John Chilton told members of the media after the meeting the analysis will not be made public until there's an actual bill to score introduced in the legislature. The KRS Board also heard from representatives of GRS, a national actuarial and benefits consulting firm, about the Fiscal Year 2017 actuarial valuation of all plans under KRS control, including the County Employees Retirement System (CERS). The report shows larger than expected gains for CERS investment returns and payroll growth.
KRS plans saw returns range from 12.9 percent to 13.8 percent, depending on the plan. That put $887 million more in plan assets than projected. Health insurance premiums for 2018 are also lower than expected. GRS Senior Consultant Danny White told the Board payroll was also up for Fiscal Year 2017. "The headline is most of the systems received an increase in active membership," said White. Only Kentucky Employees Retirement System (KERS) nonhazardous saw a drop in payroll growth, down 1.4 percent. CERS had a 4.5 percent payroll growth in Fiscal Year 2017, and both KERS and CERS hazardous plans had a 10 percent growth in salaries.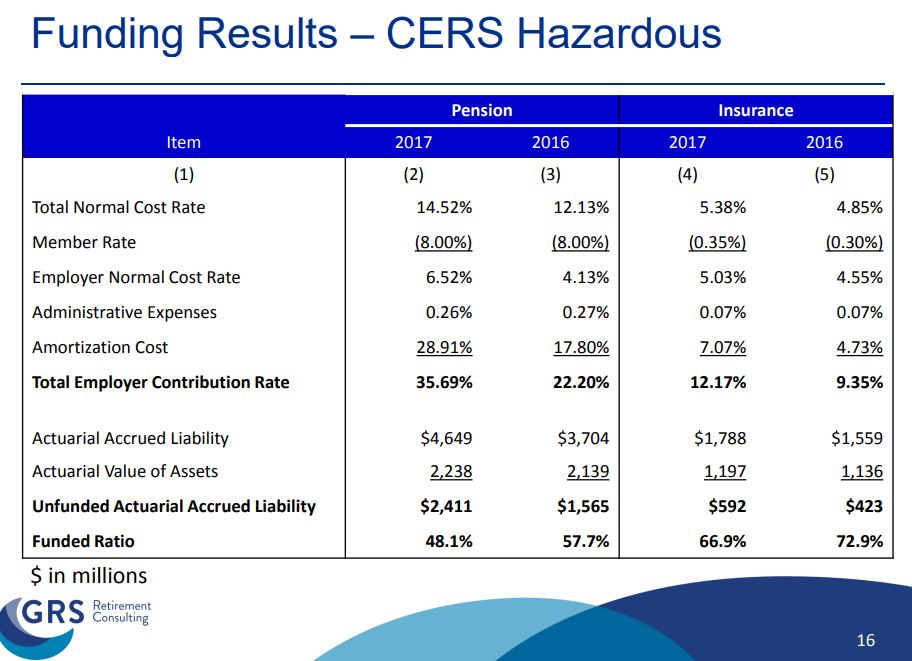 Still, new assumptions adopted by the KRS Board in July are resulting in an increase in employer contributions. Current CERS nonhazadous contributions are 19.18 percent and are predicted to climb to 28.05 percent for Fiscal Year 2018-19. Hazardous contributions are expected to jump from 31.55 percent to 47.86 percent. The unfunded liability for CERS jumped from $7.43 billion to $10.17 billion. GRS stressed to the Board that nearly all the increase in the unfunded liability was due to the assumption rate changes.
CERS assets climbed from a little more than $11.9 billion to a little less than $12.4 billion, but the funding level for both the CERS pension and insurance plans dropped. Assumption rate changes dropped the funding level for the CERS nonhazardous pension plan from 59 percent to 52.8 percent and the CERS nonhazardous insurance plan from 69.6 percent to 66.4 percent. The insurance funding ratio for CERS hazardous dropped from 72.9 percent to 66.9 percent and its pension funding ratio went from 57.7 percent to 48.1 percent. White told Board members the unfunded liability for both plans is predicted to hit zero in 26 years. He observed that "75 percent of the liability is attributed to KRS members who are receiving a benefit who are no longer active." Of the 25 percent who are still active members, White noted about one-quarter are eligible for retirement.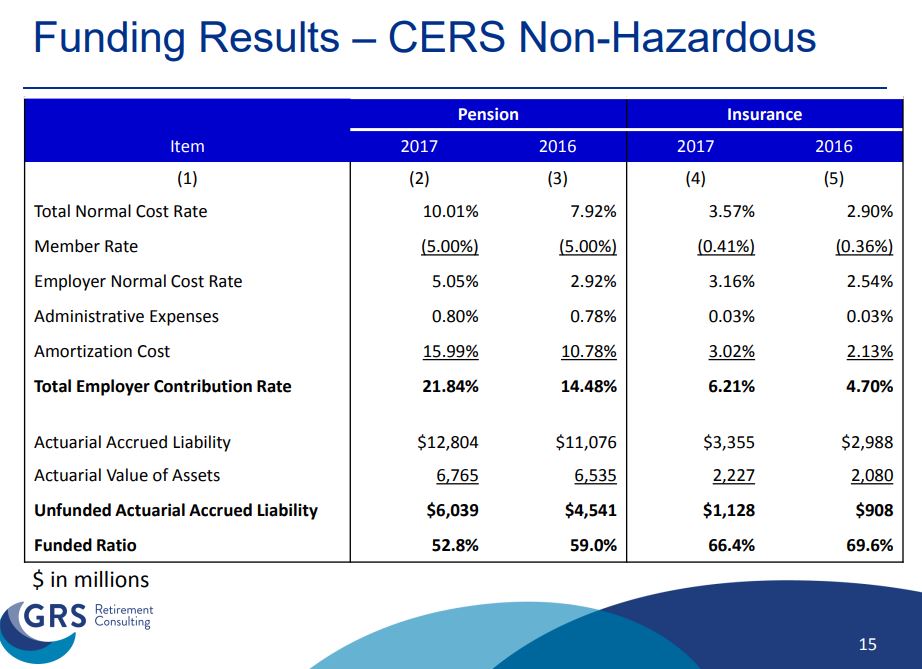 KLC Director of Governmental Affairs Bryanna Carroll points out CERS was already on an upward trajectory due to reforms passed in 2013. "Senate Bill 2 stopped the digging for CERS," stated Carroll. She asserts Monday's report just highlights the need to separate CERS from KRS. "The state dictates CERS benefits, asset allocations, investments and assumption rates. It's all under state control and that is the reason CERS is not 100 percent funded despite local governments making their full contributions. All we can do is pay the bill."
Chilton only spoke briefly during the Board meeting about the actuarial analysis of the pension reform bill. He told Board members, "There are other distractions that have delayed the speed with which pension reform can move forward at this point." When questioned by reporters after the meeting on why the analysis is not being released, Chilton remarked, "It's information that's preliminary. It's not a final bill. It's part of what the legislature uses to draft bills." He confirmed the analysis was "not a lot different from what we expected." He told reporters he did not know when the process will move into the next stage.
KRS Board of Trustees Chairman John Farris told reporters he had not seen a full analysis of the pension reform bill and had only been provided a draft. He said he was scheduled to meet with the actuaries Monday afternoon. When asked if the analysis should be released Farris commented, "The scoring should come out, it should be public. I'm assuming it will come out in the next few days." Farris indicated that if the legislation has movement, the KRS Board of Trustees will have a special called meeting to inform members of the actuarial scoring. For now, the Board will meet again December 7 to finalize actuarial valuation numbers.