Wage & Salary Survey. - Now it can be Completed Electronically
Wage and Salary Survey
Deadline for Completed Surveys was December 8.

Check here to see if your city has submitted a completed survey (as of December 8 - 2:00 p.m. EST).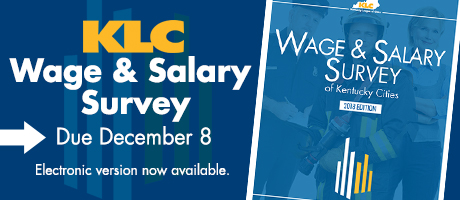 The 2018 edition of the Wage and Salary Survey of Kentucky Cities is now open! City clerks or human resource officials received a paper copy of the survey; however, a Microsoft Excel version of the survey can be completed electronically!
Typically, clerks, city admininstrator/managers or finance officers complete the survey.

The electronic version has helpful tips and reminders throughout the survey, and it will allow you to simply email it back to KLC at your convenience.
Please return your survey by mail or complete it electronically by December 8.

If you have any questions about the survey, please contact Joseph Coleman at 859.977.3715.