Case Made for Modernizing Kentucky's Road Aid Formula
Posted on
October 24, 2017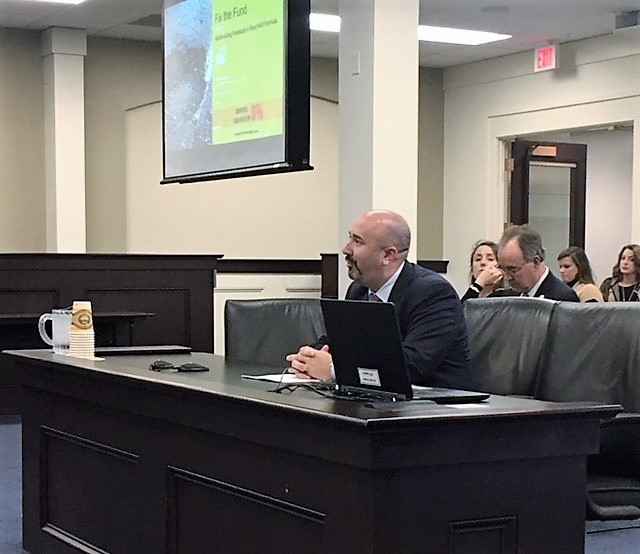 It's time to patch the financial potholes that make it difficult for cities to keep roads repaired and running smoothly. The House Working Group on Kentucky's Transportation Infrastructure heard Tuesday afternoon about the need to modernize the state's road aid formula. The current system of divvying up gas tax proceeds between cities and counties was adopted in 1948. The state and its population have thrived in the past 69 years, bringing a big boom in urban development. Cities are struggling to keep streets and bridges safe and restored, and are having to repeatedly use cash from their general funds.
The Kentucky League of Cities supports a proposal to reconfigure future increases in gas tax proceeds in a way that does not hurt county coffers. "We're not trying to revolutionize this formula or take money away from rural areas or county budgets," testified KLC Deputy Executive Director J.D. Chaney. "Maintenance of rural infrastructure is just as important to cities as it is to counties." Instead, the proposed formula of halves would only parcel out proceeds above the total collected in Fiscal Year 2014, when Kentucky saw its highest gas tax revenue in decades.
Close to half of the amount collected through the gas tax is currently allocated through three revenue sharing formulas: Rural Secondary Aid gets 22.2 percent, County Road Aid is given 18.3 percent and Municipal Road Aid is 7.7 percent. The County Road Aid and Rural Secondary Aid programs are allocated to communities based on a formula of fifths. One-fifth of the capital goes to counties in equal shares, one-fifth is divided by rural population, one-fifth is divided by rural road miles and the remaining two-fifths are divided by rural land area. The system does not consider usage, traffic count or other factors that cause significant wear and tear to thruways and bridges. The Municipal Road Aid program allocates funds to cities and unincorporated urbanized areas solely by population.
Kentucky's urban population has swelled 148 percent since that plan was designed, yet cities only end up receiving 15.4 percent of the road fund to mend their busy thoroughfares. County populations have only grown 12 percent in that same period, yet counties collect 84.6 percent of the sum designated to local communities. The suggested formula of halves spreads the new finances collected, above what was seen in FY 2014, to areas based on population and road miles. This allows for a fairer allocation to local governments that have higher traffic areas and more frequent needs for improvements and maintenance. "Essentially, we are holding harmless the dispersal of local receipts for county governments to the $825 million limit, the high mark for Fiscal Year 2014," pledged Chaney. He stressed the new plan would still favor counties, with roughly 64 percent allotted to areas outside cities and 36 percent designated to avenues inside city limits. "It's a small amount of money," he said, "but for a small city, that small amount of money can make a big difference."
Cities and counties pay roughly the same fees for street repairs, but most county expenses are covered by state funds. "Our goal is to see an equitable distribution, to where you're seeing economic development, road use and costs are taken into consideration. Part of that requires taking this formula that's been on the books for quite a long time," said Chaney. Representative John Sims (R-Flemingsburg) questioned what would happen if the gas tax proceeds didn't reach the FY 2014 quantity. Chaney stressed the fund would continue to divide aid with the same method, at the same percentages that are currently used.
Some representatives on the Group raised concern about ensuring counties didn't lose resources and offered to work together to ensure the policy works. Representative Phil Moffett (R-Louisville) even encouraged including a clause that allows for the blueprint to be reevaluated every five to 10 years to review possible changes in need and population shifts. Chaney stressed working together to draft a policy that works for everyone involved is what KLC is hoping to achieve. "We can have respectful policy disagreements; that's part of the process," stressed Chaney. "If we disagree, we'll be friends on the next one."