Kentucky Pension Plan Revealed but Cities Still Awaiting Final Draft
Posted on
April 3, 2018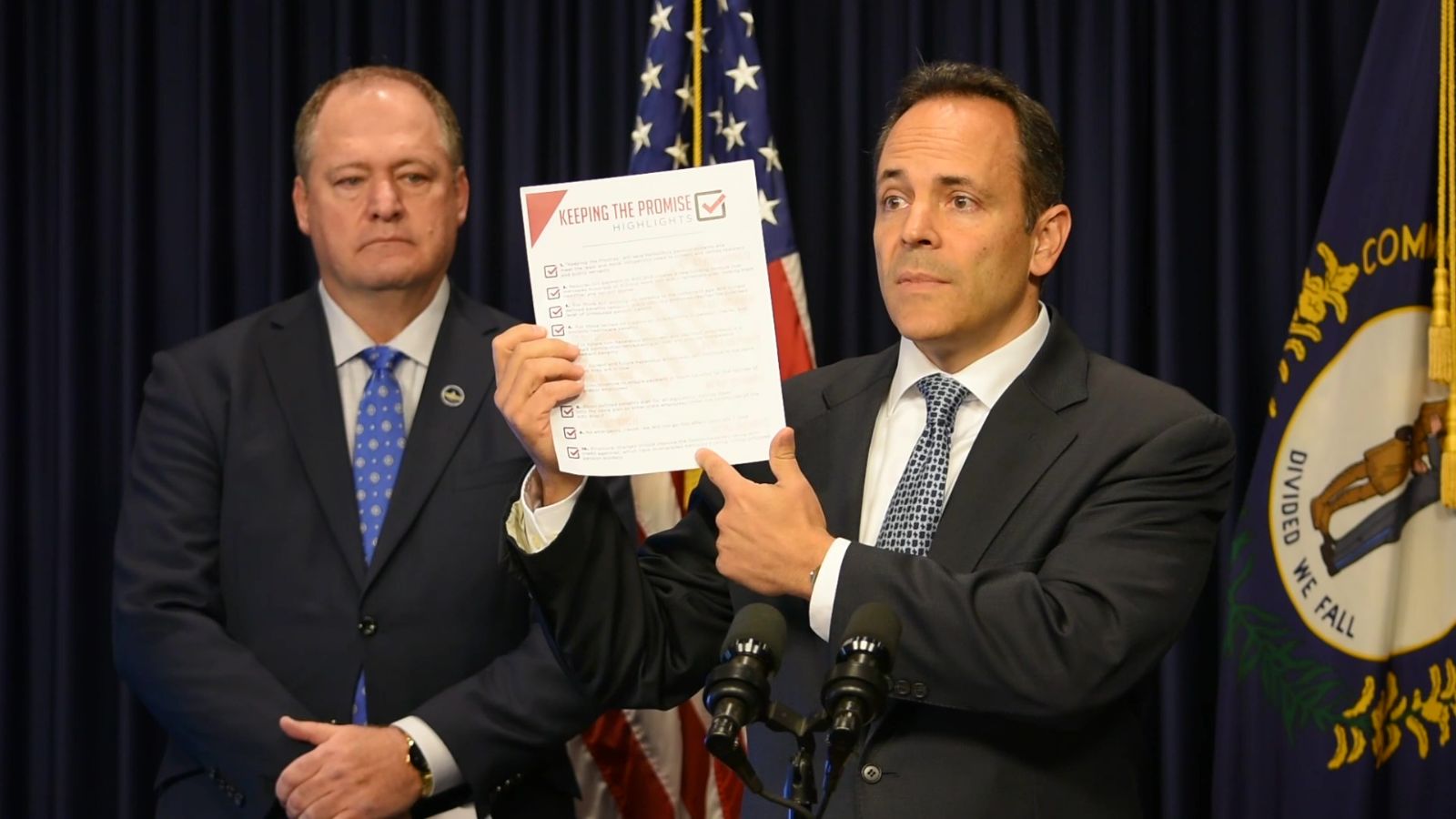 The governor and legislative leaders provided a framework Wednesday morning to a pension measure that will go before a special session later this year. The governor did not provide a date for when he will call the session and no specifics were provided for the bill, which they are calling, "Keeping the Promise." Highlights included changes to how the state's pension systems are funded, some current and future employees moved into a 401K-type plan and a requirement that every employee pay more toward the pension insurance. The proposal outlined Wednesday did not include the separation of the County Employees Retirement System (CERS).
Governor Matt Bevin, Senate President Robert Stivers (R-Manchester) and House Speaker Jeff Hoover (R-Jamestown) took turns running down what the governor called the ten key points to the pension design. Those highlights included no increase in the retirement age for current employees, no clawback or reduction in benefits for retirees, Tier 3 and new employees enrolling in a 401K-type system, no adjustments for hazardous duty employees and major changes in the retirement system for legislators. The governor heralded the changes and declared they would improve the state's credit rating.
The announcement did not include specifics on how much, if any, the changes will impact the unfunded liability of the state's various pension plans. No actuarial analysis was provided to justify any savings, there was no score of whether the proposal incentivizes retirements nor a review from the Social Security System. CERS is currently funded at around 60 percent, while the Kentucky Employees Retirement System (KERS) is funded at a much lower 16 percent. The new blueprint maintains the requirement from the passage of Senate Bill 2 in 2013 that required the state make a full payment of the actuarially required contribution (ARC). Local employers have always paid 100 percent of what they were required to contribute to the CERS ARC. The proposal also changes the funding formula for the state's pension systems to a level-dollar amortization, meaning employers would have a set amount to pay (much like a family's mortgage). The governor says the increased costs will be phased in over a four-year period.
Nonhazardous employees would face the greatest adjustments. While there would be no change to the retirement age, workers who stay on after they reach eligibility would have future retirement allocations put in a 401K-style plan instead of continuing to contribute to the defined benefit program. Tier 3 workers who have already paid into the defined benefit plan would have that contribution rolled into their new 401K. All employees would pay an extra 3 percent of their salary to the healthcare program, and there would be caps on sick leave credit. Nonhazardous employees would also have their pension payments suspended if they return to full-time work in the public sector after retirement.
Mandating CERS employers pay into a state managed defined contribution plan, like a 401K, is a new requirement as present law only requires CERS employers participate in the system if they want to offer a defined benefit. Currently, local employers who opt to offer a 401K or defined contribution can do so on the open market to price fees and other expenses.
Governor Bevin said separation of CERS is not included in the legislation because he believes changes it makes to the system fixes the problems. "If we have guaranteed that this boat will not sink, why would you get off it," asked Bevin. KLC Director of Governmental Affairs, Bryanna Carroll, says the proposal does not address the big issue that those advocating for separation have raised, which is mismanagement by the Kentucky Retirement Systems (KRS). "When a draft of the actual pension bill is released we'll have an actuarial analysis done to present to the KLC Board of Directors," promised Carroll. "Unless the Board decides to change course, we will continue to advocate for separation to be included in any pension bill as it's the only way to guarantee that local funds are not vulnerable to political pressure and bad management." Carroll noted city leaders are disappointed separation is not part of the framework, but she says "nothing in the outline provided Wednesday would appear to preclude separation of CERS or alter the viability of separation from a financial standpoint."
The governor vowed legislators will get a chance to see the final draft before they convene. He said it is not currently available because his office and the Office of the State Budget Director are still finalizing the details. "It is imperative that we have it accurate and drawn up right before we ask people to vote on it," remarked Bevin. He would not say when it might be released but insisted he will not call the special session until the bill is distributed and ample time is given for review. The governor also repeated his pledge to not put any emergency clause in place, and declared any pension reform passed would not take effect until July 1, 2018.
Legislators will also take up drastic changes to their own retirement system. They would be moved from a defined benefit plan into the same 401K as other state workers. Current legislative retirees will also have their retirements recalculated. New payments will only be based on the person's actual legislative salary, regardless of other public offices held. Speaker Hoover warned his fellow lawmakers it's not going to be an easy vote. "Public service means making tough choices," he stated. "It means sometimes taking tough votes, coming up with innovative solutions. I believe that's what we're doing here today with our pension proposal." Stivers said getting to the framework announced Wednesday wasn't an easy road. "It is the most complex and intricate problem I've dealt with in 21 years," he observed.
You can read the pension documents provided by the governor's office at Wednesday's briefing by clicking here.