Cities Know Importance of Engaging Millennials
Posted on
June 20, 2018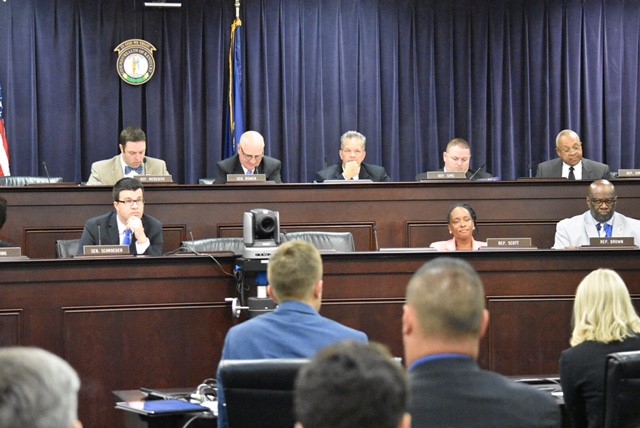 The trick to growing and improving a city may lie with its "Under 40 Crowd." A group of young professionals from Owensboro testified before the Interim Joint Committee on Local Government Wednesday morning about the city's successful "Under 40 Crowd" initiative. Greater Owensboro Chamber of Commerce President Candance Brake told lawmakers the city's focus on growing and developing its "Under 40 Crowd" has led to "a stronger economy with steady but sustainable growth and a livable community, where you can get involved and make a difference no matter what age you are."
The secret to growing a city's young entrepreneur and business professional population is ensuring they know, "You can, in fact, go home again," said Joe Berry, a vice president with the Greater Owensboro Economic Development Corporation. He testified about an initiative the city undertook to capitalize on its strengths and grow its economy. He stressed the importance of human capital to grow companies and communities. Owensboro has seen $200 million invested in the city since 2009.
One of the reasons Owensboro business leaders credit with the city's success is the rebirth of a young professional's program. The city started the Chamber Young Professionals (CYP) in February 2016. The group already has 150 members. Andrew Howard, who chairs CYP, told lawmakers it was "a vital asset to the continued sustainability and growth of Owensboro." It focuses on talent in the age range of 21 to 40 years-old and focuses on recruitment and retainment.
Various members of the Chamber Young Professionals testified about the social, community and business programs CYP provides to the city, its businesses and members of the group. Leadership Owensboro Executive Director Jessica Kirk testified, "We're extremely deliberate when it comes to keeping our talent at home."
Hopkinsville Mayor Carter Hendricks says keeping talent at home is key to attracting business and industry. His city is looking to build its "Under 40 Crowd" with Hopkinsville and Christian County WINS, which stands for Wellness, Infrastructure, Neighborhoods Equals Success. Mayor Hendricks says the city is expanding its greenway system, developing a sidewalk plan and making major upgrades to its downtown area. It's breaking ground on a new multipurpose sports facility in November. Those are just some of the $200 million in public investments the city will make over the next three to five years. "We were looking at what would make us more attractive to millennials," said Mayor Hendricks. "From my perspective, it's about creating quality of place."
Versailles Mayor Brian Traugott agrees city leaders need to engage with the "Under 40 Crowd." He knows what drives someone in that age group to get involved. Traugott was first elected to city council at age 33 and became mayor when he was 34. His city has developed programs to promote local business and industry opportunities to its young professionals. "Our downtown is getting revitalized, almost 100 percent on the back of the 'Under 40 Crowd'," said Mayor Traugott. He stressed the new businesses and customer base drawn to downtown Versailles have helped revitalize the area.
The city also has a high school youth council that will hold its first meeting next week, and Mayor Traugott says it's getting young people involved in the industrial sector, where there are future job opportunities. "You have to make an effort to get in tune with the 'Under 40 Crowd'," said Mayor Traugott. He stresses the rewards can be great: better ideas, more creativity and renewed enthusiasm for a community. Mayor Hendricks also believes reaching out to young professionals is key. Hopkinsville Young Professionals Engaged is an organization in his city that's working to develop new ideas. He says it just held a two-hour session this week on visioning for the future.
At Wednesday's Committee meeting, Kentucky Wesleyan College President Bart Darrell also talked about the importance a higher education system plays in a city's ability to recruit young talent. Darrell also stressed the importance of creating postcollege graduation opportunities in communities. "It's not just enough to have buildings," said President Darrell. "You have to create a culture and an environment where young people say this isn't just some place that was home, it's going to be home."
Senator Joe Bowen (R-Owensboro), who co-chairs the Committee, reminded members, "It's important for all of us, as legislators, to engage our 'Under 40' constituency, to embrace them." He pointed out, "This is where so many of our good, creative and forward-thinking ideas are coming from." Representative D.J. Johnson (R-Owensboro) also commented on the message a growing and successful group of young professionals sends to the community. "It's very fashionable these days for people my age and older to lament about the future of our country and community because we just don't think our young people get it," said Representative Johnson. "We've seen today that's just not true."