Large Crowd Attends First KRS Board Meeting Since Controversial Pension Report
Posted on
September 15, 2017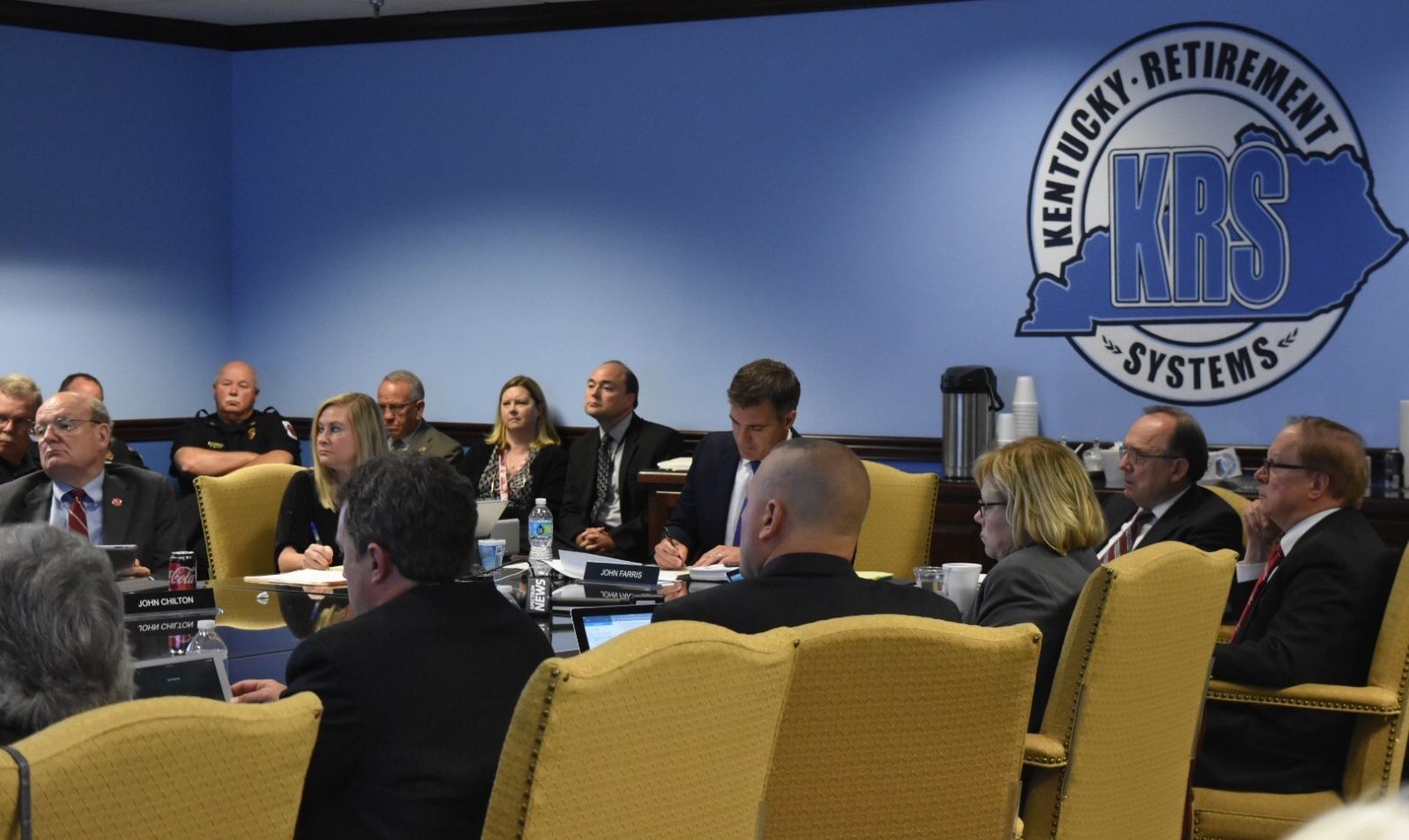 It was an overflow crowd on Thursday as members of the Kentucky Retirement Systems (KRS) Board of Trustees met for the first time since a controversial PFM Group report recommended extreme changes to the state's pension plans. The Board had no comment on the report and stressed several times its role is not to set pension policy. Board Chairman John Farris told the group and the dozens in the audience, "It is the legislature and the governor's office, they're the legislative body. Our responsibility is to administer and operate this organization effectively."
Board member Jerry Powell, who represents the County Employees Retirement System (CERS), still wanted the Board to send Governor Matt Bevin and legislators a strong message about possible pension reform. The governor and legislative leadership have been meeting to draw up a pension reform bill for a special session later this year. No information has been released on what that bill may contain and no date for the special session has been set. Powell questioned if some of the recommendations in the PFM report would violate the inviolable contract. Powell introduced a resolution he asked the Board to pass that would say benefits for public employees are set on the first day of work. The resolution would have urged the governor and General Assembly to honor and fulfill retirement benefits in the inviolable contract as well as fund the Kentucky Employees Retirement System (KERS) and CERS going forward at the actuarial level.
Questions were raised as to if the Board could adopt such a resolution; if it was within the scope of its authority to opine or urge an opinion. Board member Neil Ramsey told Powell and others, "Other than ceremonial, I don't think this carries water." Board member Tom Stephens, who is also Secretary of the Personnel Cabinet, made a motion to have legal counsel with KRS review the resolution. The Board will then take it up at its next meeting in November.
During public comment, Mark Iverson, general manager of Bowling Green Municipal Utilities, questioned assumption rates adopted by the Board in July. Iverson told Board members, "Near-term and long-term plan performance indicates higher returns than investment return assumptions recently adopted." He pointed out the CERS nonhazardous plan saw a five-year average return of 8.3 percent and a 12-year average of 6.7 percent. The Board approved a 6.25 percent rate of return, 2.0 percent payroll rate and 2.3 percent inflation rate for CERS. Iverson questioned the rates and claimed they were "an outlier among your peers." He also pointed out a 125-basis point reduction in one year also "runs contrary to standard plan administration methodology and your peer group of all 50 states."
Rich Robben, interim executive director for the KRS Office of Investments, reported to the Board that all investments had "strong performance for the last fiscal year." The Board approved an Investment Committee recommendation to put $150 million from the healthy plans, including CERS, into two new investments. Robben told the Board all the plans ended the year with more money than they started the year with. "That hasn't happened in a few years," he reported. KRS Interim Executive Director David Eager told the Board KRS had a 38-percent spike in retirement calls and requests in September and visits to the KRS website climbed two-and-a-half times in a two-week period. Eager says KRS is hiring 10 temporary employees to help with the volume of requests. There is always an uptick in retirements near the beginning of a new fiscal year due to the formula KRS uses to calculate final retirement benefits. September is a month in 2017 in which most people receive three paychecks and retiring in a three-paycheck month increases the current retirement pay calculation.
The Board also voted to dissolve two committees and create two subcommittees. A Hazardous Duty Subcommittee will make recommendations to the full Board on positions that should fall under hazardous duty plans. An Actuarial Subcommittee will serve as part of the Investment Committee and analyze actuarial reports to present findings to the full Board. The Actuarial Subcommittee will be made up of three appointed trustees and one each from KERS, CERS and the State Police Retirement System (SPRS). The Board dissolved the Human Resources Committee, saying it was unnecessary due to KRS falling under the Kentucky Personnel Cabinet. The Legislative and Budget Committee was also dissolved. It had not met since 2013, and the Board decided legislative issues fall under the Executive Director's role who could call a special Board meeting if legislative issues arose that required the entire Board's attention. Board member Betty Pendergrass voiced concern that the Board of Trustees needed to be involved with legislators and the Public Pension Oversight Board more than it currently was.
The Board voted to accept a request by the Kentucky Association of Children's Advocacy Centers (KACAC) to leave CERS and a request by McLean County Regional Water Commission to join CERS. The Board also voted on six nominees for two KERS seats that will soon open on the Board. After several rounds of voting, the list was narrowed down to current Board members Vince Lang and Mary Helen Peter, along with new nominees Cary Bishop, Sherry Kremer, Larry Totten and Raymond Connell.