State Budget Director Acknowledges Dire Consequences of KRS Board Actions
Posted on
September 8, 2017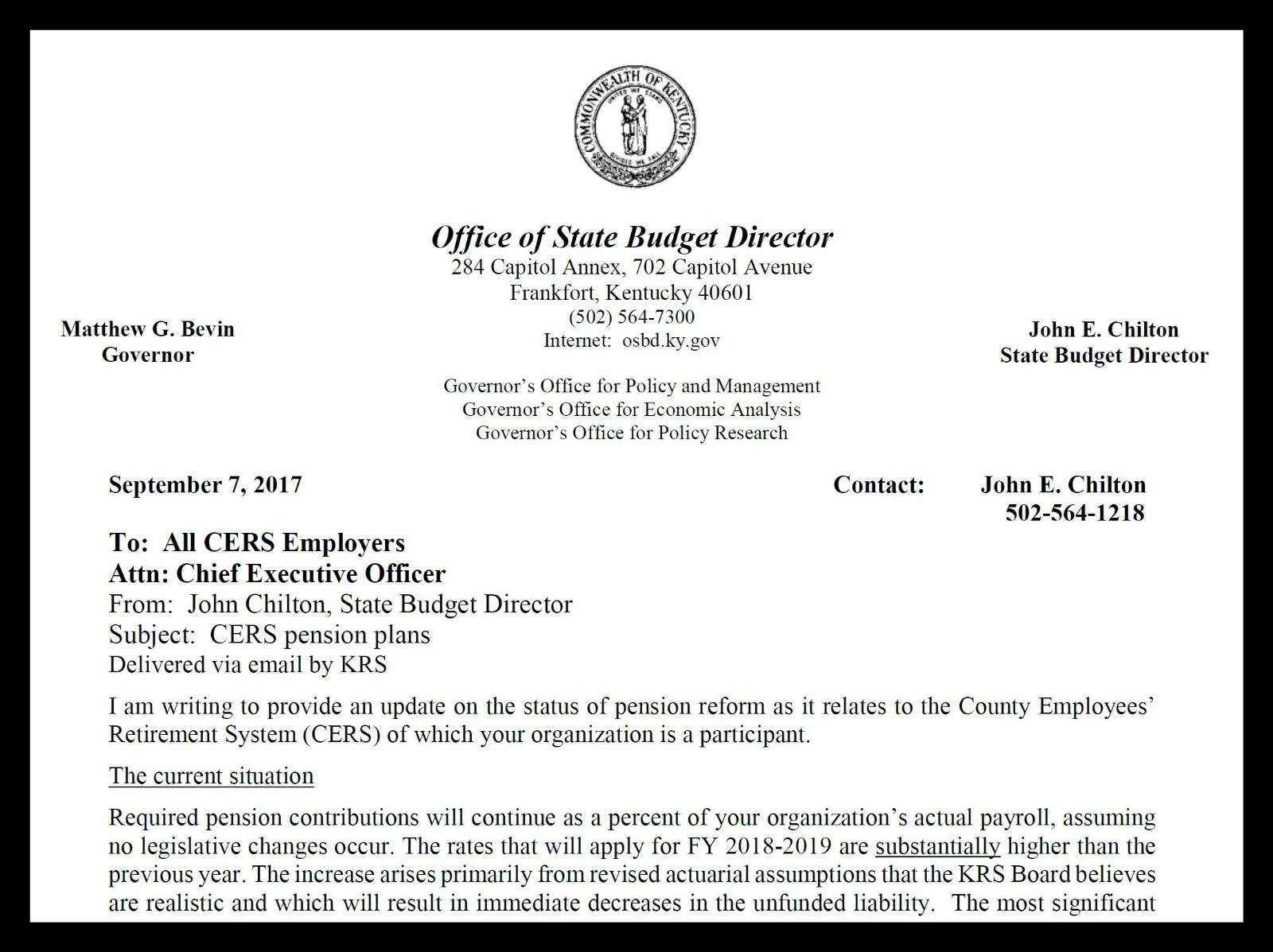 State Budget Director John Chilton is telling city, county, and school employers that it's time to stop pretending. In a 34-page memo sent Thursday afternoon to employers within the County Employees Retirement System (CERS), Chilton provides, in chilling detail, the dire circumstances confronting local governments because of the Kentucky Retirement Systems (KRS) Board of Directors action in July to significantly and immediately alter actuarial assumptions.
On July 12, the KRS Board voted to revise several actuarial assumptions, resulting in dramatic rate increases for cities, counties and school boards. The Kentucky League of Cities and a few, out-numbered board members representing CERS employees and employers urged the Board to take the more prudent course of action to phase-in changes to avoid a shock to the system. The Board of Trustees, dominated by gubernatorial appointees, ignored the requests and proceeded with the changes. Chilton outlined the consequences of those actions in his warning letter predicting that, in the absence of legislative changes to the pension system, employers will see the employer contribution rate for nonhazardous employees grow from 19.18 percent of payroll under the old assumption rates to 28.86 percent. The hazardous employer contribution rate would go from 31.55 percent of payroll to 50.67 percent. The rates could become effective on July 1, 2018.
During the public comment period following the Board's July action, KLC Deputy Executive Director J.D. Chaney told the retirement board members that "the adverse employer consequences that are likely to be produced by the shock, without phasing in these changes, is going to have an impact on the long-term stability of CERS." Chaney said it was part of the fiduciary responsibility of the Board "to consider how employers will respond and how it can impact the system." Immediately following the meeting, Chaney stated that he has "never seen any action by the state or any of its agencies that would be this disastrous for city governments." You can read more on that meeting and Chaney's comments here.
In this week's letter, Chilton admits "the CERS plans are in better shape than other Kentucky plans." CERS was funded at 62 percent before assumption changes made by the KRS Board in July. Chilton's memo argues CERS should be viewed through a larger prism, and not just in comparison to the abysmal funding of the Kentucky Employees Retirement System (KERS). KLC Governmental Affairs Manager Bryanna Carroll says that's what a coalition of 24 groups that's been seeking separation of CERS from the Kentucky Retirement Systems (KRS) wants – "for it to be an independent plan and not one lumped in with KERS."
"While we recognize that drastic structural changes may be needed for other government pension plans that are nearing a depletion of assets, our school bus drivers, police officers, firefighters, and all the other county and city workers covered by CERS who keep our communities safe and operational should not be subject to changes that do not provide any short-term rate relief caused by the assumption changes for CERS," said Carroll. Carroll points to legislative changes to CERS in the 2013 session that created a hybrid-cash balance plan and eliminated the automatic and unfunded granting of COLAs. She says those changes will provide a sustainable and stable pension system if the reforms are given time to work. "If we want to continue to recruit and retain dependable and dedicated employees, whose average annual CERS non-hazardous benefit is $11,000 and the average hazardous benefit is $25,000, then we should not completely abandon a system that provides a stable framework where the commitments to employees and affordability can be successfully balanced," said Carroll.
Chilton says the choices facing cities are "not happy choices" and argues employers "will have to either make structural changes to the pension plans and/or reduce other spending." County and city workers should make note that Chilton says "discussions about changes to the pension system have become more intense," and that the governor and legislators are "evaluating and considering" the report issued by PFM, the outside group the governor hired to evaluate the pension systems and make structural recommendations. But, Carroll says county and city workers already have an option that will protect their hard-earned pensions and they have shown up by the hundreds to town halls across the Commonwealth to show their support for #freeCERS. "Sustain and separate is a better path forward than continuing with the same management structure that created the issues we now face," said Carroll. "By freeing CERS, we allow county and city workers to have more control over their futures and we can ultimately honor those who care for our children and keep our communities livable, desirable and safe."
On the letter, Chaney said he believes that "drawing attention to the fact that a non-elected board can make this type of decision, without regard to the impact it will have on local government budgets and their taxpayers, will only fortify the conviction of local officials and their employees that freeing CERS from KRS management is imperative." Of the assets contained in KRS, 73 percent belong to employees within CERS and CERS employees represent 63 percent of the active and retired employees within KRS. When the Kentucky Retirement Systems Board of Directors made these decisions, CERS had no representatives on the Investment Committee and only 6 of the 17 board members represented CERS stakeholders.
The governor and members of the legislature have been meeting to draft a possible pension reform bill for a special session later this year. While the governor has not called the session, it has been reported it won't occur until sometime in November. Speaker of the House Jeff Hoover (R-Jamestown) has said people will have several days to review the bill before lawmakers convene for the session. Chilton claims, in the memo, that the governor and others have not decided on changes to KERS, CERS or the other state plans. He encourages employers to work with their respective associations to help find solutions.
Chaney expressed gratitude to Chilton for providing an official communication on the actions of the retirement system and indicated that KLC looks forward to working with the budget director, other administration officials, legislators, and other employer and employee groups representing stakeholders in CERS to develop a viable solution. "City officials are fully committed to addressing the issues, but will be guided by their responsibilities to both the public servants who deliver city services and the taxpayers who fund them."