Bill to Regulate Pawnbrokers Goes Back Before Lawmakers
Posted on
April 3, 2018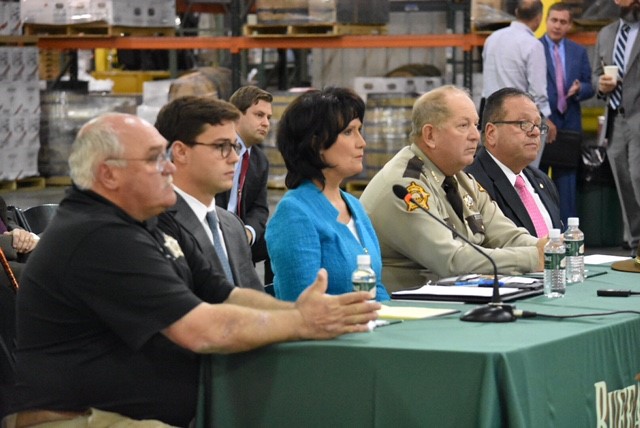 A group pushing for more rules and regulations for pawnbrokers in Kentucky told a legislative committee Friday they're just looking for consistency. Representative Kim King (R-Harrodsburg) filed House Bill 23 in the 2017 Regular Session of the General Assembly, but it failed to get out of committee. Friday, the Interim Joint Committee on Licensing, Occupations, and Administrative Regulations took up the issue again and Co-chairman Senator John Schickel (R-Union) told the group, "If the votes are in the committee, we will pass this out this year."
Representative King, Jessamine County Sheriff Kevin Corman, Mercer County Sheriff Ernie Kelty, retired Fleming County Sheriff Jerry Wagner and Barrett Block, vice president of The Castle, all testified in support of the bill. Sheriff Corman, who is president of the Kentucky Sheriffs' Association, told lawmakers the drug epidemic in the state is driving more and more people to pawn shops with items they own or steal. Sheriff Corman says law enforcement across the state deals with inconsistent rules and regulations for pawnbrokers in Kentucky, depending on location. "Right now, in Nicholasville, Fayette County and some of the other counties most people are already reporting on the pawn shop database," testified Sheriff Corman. "Problem is, in some of the outlying areas, some are not participating and guess who has figured that out - the people who are pawning and don't want us to find them."
House Bill 23, supported by the Kentucky League of Cities, would require pawnbrokers to keep an online register of all loans and purchases that would be accessible by law enforcement. The database would have to show the date and dollar amount of the transaction, as well as the driver's license or Social Security number of the seller. Pawn shops would also be required to provide a full description of the property purchased and make a photo of the item available to police if requested. All pawned items would have a 12-day hold period before they could be resold. Sheriff Corman says the hold days are important. "It gives us 10 to 12 days to catch up with it."
Sheriff Corman says The Castle, a jewelry and pawn shop with locations across the state, is already holding items for a 12-day period. Block testified his company supports the bill and feels it will "level the playing field while helping law enforcement catch criminals." He stressed pawnbrokers provide a service to the community by providing income for folks who may not have any other source.
Representative Jerry Miller (R-Louisville) asked why the bill doesn't require serial numbers to also be logged into the database. "It should be required because that's a dead giveaway," suggested Representative Miller. Representative King agreed but said adding such a requirement may hamper keeping records for all pawned items. "We didn't want that to be a barrier for having a description for jewelry or something that didn't have a serial number." Still, Representative Miller suggested wording be added to the bill to require a serial number, if available.
A representative for the Kentucky Pawnbrokers Association told lawmakers her organization doesn't disagree more continuity needs to be in place statewide when it comes to reporting and holding pawned items. She testified the Association questions the requirement for a Social Security number and wanted law enforcement to be required to file paperwork to put a hold on a pawned item. Representative King reminded lawmakers House Bill 23 only required a Social Security number from someone who didn't have a driver's license or another form of identification. Senator Tom Buford (R-Nicholasville) reminded lawmakers a person's Social Security number will be encoded into a driver's license once Kentucky switches under the Real ID Act.
Representative C. Wesley Morgan (R-Richmond) questioned why pawnbrokers don't also take photos of customers who sell items. Senator Paul Hornback (R-Shelbyville) suggested lawmakers look at putting similar rules in place for scrap yards in Kentucky. In the end, Senator Schickel told all parties involved to get together and work out the details of the bill to ensure everyone is on board before it comes before the committee in the 2018 session.