KLC Board of Directors Evaluating PFM Pension Recommendations
Posted on
September 1, 2017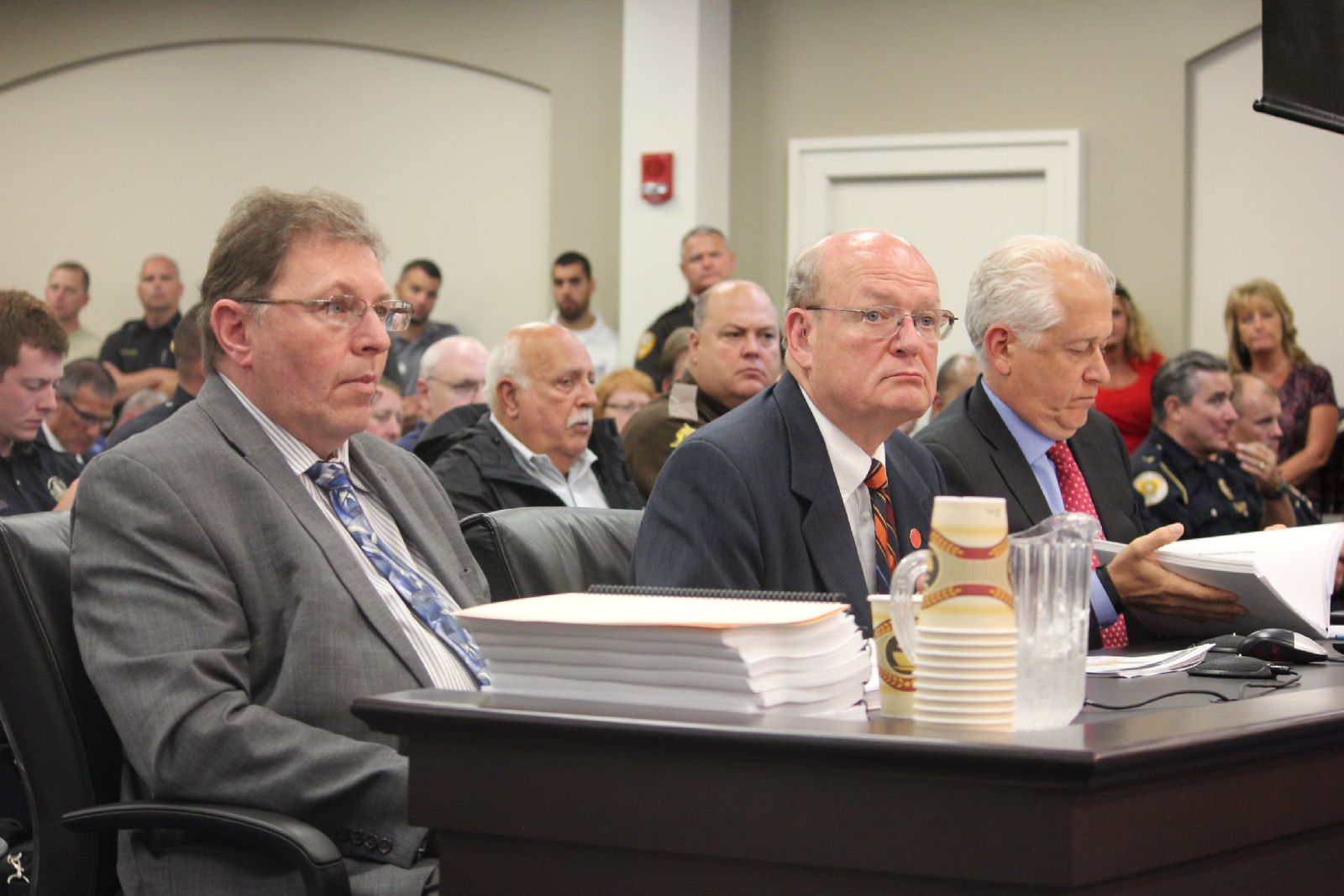 No state retirement group was left out when the PFM Group delivered its third and final report to the Public Pension Oversight Board (PPOB) this week. The report focused on recommended reforms for the state's pension systems, with changes for retirees as well as future and active employees. Lawmakers, employees and employers are now trying to determine where potential pension reform will go from here and what portions of the PFM report will be seriously considered. A coalition of 24 groups, including the Kentucky League of Cities, says the report will not alter the push for separation of the County Employees Retirement System (CERS) from the Kentucky Retirement Systems (KRS). The report says the state needs to take drastic steps to pull the pension systems out of debt, including switching some workers to a 401K-type plan, changing retirement age requirements, putting teachers into Social Security and changing health benefits for retirees.
Kentucky hired the PFM Group, at Governor Bevin's request, to analyze the state's pension plans. PFM Group Managing Director Mike Nadol told lawmakers, "Underfunding is acute, it's growing, it threatens the sovereignty of the most underfunded plans and, most unfortunately, nicking around the edges won't get Kentucky to where it needs to be." That's why Nadol says the Group is recommending aggressive actions. The report recommends changes PFM admits will almost inevitably end with legal challenges. It recommends accrued benefits for service earned by employees and retirees be protected within the framework of the inviolable contract "to the extent possible."
One of the recommended changes impacts how the state amortizes the pensions. PFM wants to see the state switch to a level dollar method of amortization. Basically, it wants the state to treat pension payments as you might a mortgage payment; a level payment over a 30-year period with some interest and principal paid every year. The state has been using a level percent of payroll method, which uses projected payrolls to calculate payments over a given number of years. Adam Reese, with PRM Consulting Group, told lawmakers, "A major portion of the growth of the underfunding came from the use of that method (level percent of payroll)."
Recommended changes for employees vary for future, current and retired classes. PFM says future hires in the Kentucky Employees Retirement System nonhazardous plan (KERS-NH), the County Employees Retirement System nonhazardous plan (CERS-NH) and the Judicial Form Retirement System (JFRS) should all start with a 401K-style defined contribution plan that will have a mandatory employee contribution of 3 percent and guaranteed employer contribution of 2 percent. Employers could match 50 percent of additional employee contributions up to 6 percent. The PFM report recommends future teachers be put into Social Security (which teachers do not currently qualify for) with a 401K-type of defined contribution retirement. Local school boards would have to foot the bill for the Social Security payments. There are many employees within both the hazardous and nonhazardous plans of the County Employees Retirement System who also don't quality for Social Security.
Those in the KERS and CERS hazardous plans and State Police Retirement System (SPRS) would keep the same cash balance retirement system they have now, but would not be eligible for retirement until age 60. Depending on their hire date, hazardous employees can currently retire after 20 or 25 years of service, regardless of age. It also recommends a normal retirement age of 65 for current nonhazardous participants, including teachers, regardless of years worked.
For current employees in the JFRS and nonhazardous plans, the PFM Group recommends freezing accrued benefits under the current pension tiers. Whatever cash value an employee had in their current plan could be bought out and rolled over to a new 401K-type plan. Employees would no longer be allowed to apply unused sick days to their pension benefits, and PFM says the state should eliminate pension benefit payments granted through cost of living adjustments made between 1996 and 2012. It claims those payments were made under statutes that are excluded from the inviolable contract.
The Group also recommends changing the retiree medical benefits program. It wants to set retiree health benefits at the same level current employees receive. It also recommends the state only offer medical health benefits to employees who retire directly from public employment. Kentucky League of Cities Deputy Executive Director J.D. Chaney says the KLC Board of Directors is evaluating the report. "While only recommendations, many have serious and life-altering consequences for individuals and communities," said Chaney.
State lawmakers enacted significant pension reform in 2013, with Senate Bill 2. The bill created the Tier 3 level (also known as the hybrid cash balance plan). Those advocating for separation of CERS point out those reforms have not had a chance to work and bring down the unfunded liability. The independent actuary group October Three Consulting predicts CERS will be 100 percent funded by Fiscal Year 2043, the first year after the current amortization period ends, without structural or benefit changes. As KLC Governmental Affairs Manager Bryanna Carroll points out, "Piecemeal separation is not needed for the future success of CERS. It is already on an upward trajectory."
PFM is not supporting the proposed separation of the County Employees Retirement System. Its report says such a split would lower the entire asset base for the Kentucky Retirement Systems (KRS), costing it more in fees. Instead, the Group suggests the state develop a single investment team that would handle investments for all the state's plans, not just those under KRS. The coalition asking for separation says such a committee would not allow for local control of local pensions, one of the main reasons for separation.
"The governor knows the needs of his employees to recruit and retain, as well as what he can afford to pay them from the state budget," said Carroll. "All the coalition of city and county employers is seeking with separation is the same consideration. Retirement incomes in CERS are not high wage. The average nonhazardous retirement is $11,000 and the average hazardous retirement is only $25,000." She says the PFM Group's report will not deter the coalition's efforts. "We remain committed to the goal of sustaining and separating CERS."
Governor Bevin and state lawmakers say work is now underway to draft a possible pension plan for a special session later this year. Nadol told lawmakers at PPOB, "It will take a long-term approach, long-term commitment." He admitted, "The options that are before you are difficult and in many cases unpleasant and hard." Bevin held a Facebook Live question-and-answer session Monday night to talk about the report and pension reform. He promised, "We are not going to take things from people that have already been earned." Members of the House of Representatives held a closed-door meeting Tuesday afternoon to discuss the report. Senate Democrats and Republicans plan to hold separate caucuses this week.
Lawmakers stress the PFM Group is not a legislative body and that the report released this week is only a recommendation. At a CERS Separation and Stability Forum in Paducah Tuesday night, Senator Danny Carroll (R-Paducah) told the crowd, "I think it just gives us a base of information to draw from." He stressed lawmakers are a long way from drafting a bill. As for the report, Senator Carroll said, "I have some concerns over a lot of the language that's in the report." During his Facebook Live event Bevin said, "There's some that, quite frankly, I don't think there will be an appetite for, even though they may be financially appropriate for us to pursue." While the governor promised "there's nothing that won't be considered," he said any plan implemented won't get Kentucky out of its pension debt for 20-30 years. "We're not looking for short fixes. We're not looking for instant responses."
Legislators and Governor Bevin promise any changes made to the state's pension system will not include an emergency clause, allowing employees plenty of time to make plans after decisions are made.