Hundreds Attend CERS Separation & Stability Forums Across Kentucky
Posted on
October 20, 2017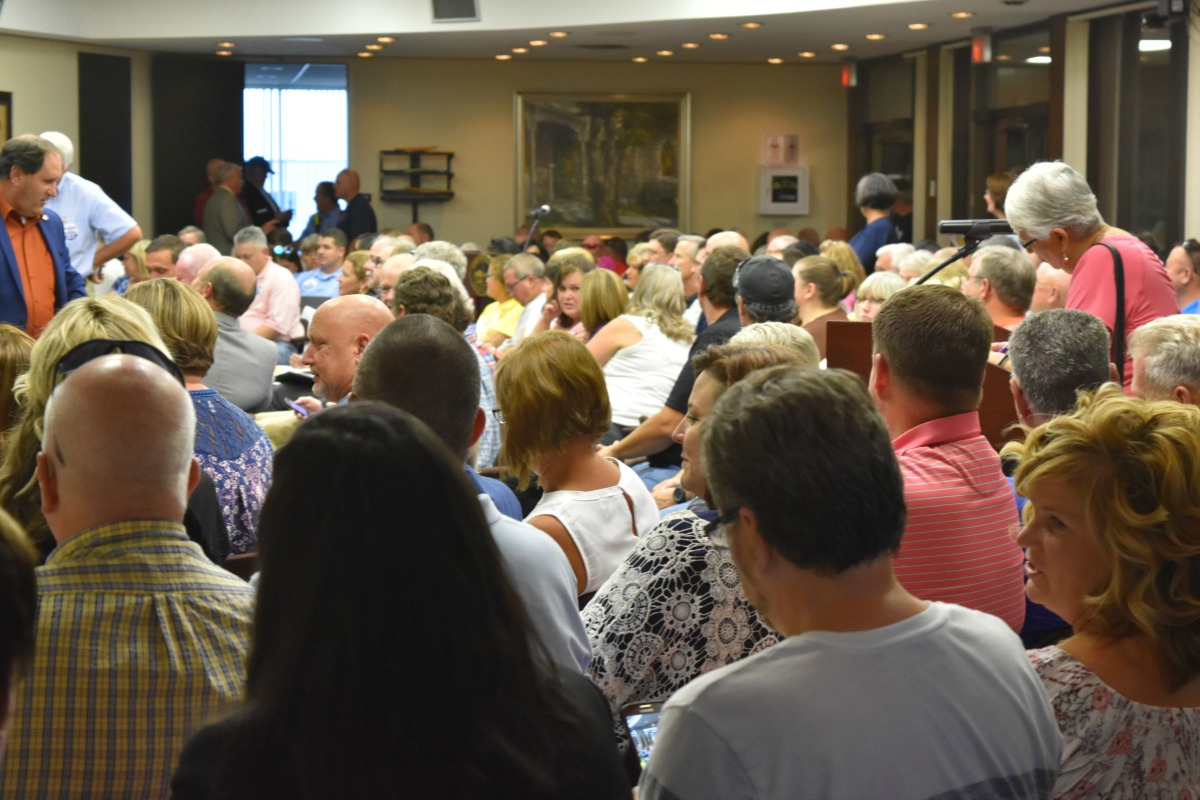 Hundreds packed into meeting rooms across the state this month to hear about separation and stability of the County Employees Retirement System (CERS). The Kentucky League of Cities and other members of a 24-member coalition wrapped up a seven-city road show Thursday. The group talked to CERS employers, employees and retirees about the proposed separation of CERS from the Kentucky Retirement Systems (KRS) and about the report released Monday by the PFM Group that included recommended pension reforms for the state.
Many meetings were standing room only as people concerned about their pensions packed in to hear from pension experts and lawmakers. Those in the audiences also got to ask questions. Many attending the meetings said it helped them understand the issue better and see why separation of the County Employees Retirement System makes good sense.
The coalition is seeking separation without structural or benefit changes. Kentucky League of Cities Governmental Affairs Manager Bryanna Carroll stressed in all meetings how rhetoric surrounding the proposed separation of CERS is not painting an accurate picture. "CERS is not in peril," she told a crowd of 250 in Florence Thursday night. "The changes in Senate Bill 2, from 2013, has put us on an upward trajectory." Carroll and others on the panel assured those in attendance those 2013 reforms just need to be given a chance to work. "It's only been a few years," pointed out Carroll. "We don't even have people vested yet in that new system and they're already wanting to make changes." An actuarial firm hired by KLC, October Three Consulting, shows the County Employees Retirement System will be 100 percent funded by the end of the current amortization period, Fiscal Year 2043, if the reforms are allowed to work.
Separation of the County Employees Retirement System was before lawmakers in the 2017 Regular Session of the General Assembly, with Senate Bill 226. Senator Joe Bowen (R-Owensboro) sponsored the bill and pulled it from consideration at Governor Bevin's request. At the time the governor said he wanted it included in the special session that will focus on pension reform. Wednesday night, at the Owensboro forum, Senator Bowen told the crowd, "I can assure you the governor has kept his word that this issue is front and center. We have spent more time on separation than any other issues with pension reform." While Senator Bowen did tell the crowd he believes separation will happen, he warned them that the end product may not mirror Senate Bill 226. "Will it be close? Yeah. Will it have the meat and potatoes? Yeah, I think it will. Will it be the exact language? I don't think it will get there."
Members of the coalition supporting separation warned many possible changes to the language of the bill could be a reason for the coalition to no longer support the idea of separation. Among the many things Carroll said were non-negotiable for the coalition is a proposal to form a central Investment Committee to run all state pensions, including CERS. It was one of many ideas the PFM Group proposed in a report Monday to the Public Pension Oversight Board. Carroll told those at the forums, "It would be no benefit to us to leave our money in the hands of the state." Such a move, says Carroll, would defeat the purpose of separation and would not create the local control of local pensions that the coalition is seeking.
The PFM Group, a firm hired by the state at Governor Bevin's request to study the state's pension systems, also listed several other recommendations members of the coalition do not support, including switching nonhazardous workers to a 401K-type plan, changing retirement age requirements for hazardous employees and changing health benefits for retirees. The coalition for separation points out those types of changes are not necessary for CERS. "We do not want piecemeal separation to the structure or benefits because they're not needed for the future success of the CERS plan," said Carroll. "The average annual benefit for CERS non-hazardous retirees is $11,000 and $25,000 for a CERS hazardous retiree. We are not talking about high wage employees within the system. We are appreciative of our CERS members for their service as they maintain our city halls and county courthouses, safely drive our children to school on the bus, protect our communities and feed our children. The governor may know what's best for the state's plan, that's not for us to say, but locals know what's best for their employees. They know what benefits they can afford to pay. We should not be lumped into changes that are not needed on the local level because the state has a pension problem."
Coalition members that represent police officers and firefighters also warn those types of changes could be devastating to local departments. "We can't afford to lose any more of our retirement benefits," stressed Louisville Police Officer Nick Jilek, who spoke on behalf of the Kentucky Fraternal Order of Police. Jilek stressed many departments already face major recruitment and retention problems. Kentucky Professional Firefighters President Joe Baer told the crowds it's not safe for a firefighter to work until the age of 60, one of the PFM recommendations. It's those type of suggestions that Baer said has members of the coalition standing strong for separation without structural or benefit changes for all employees under CERS hazardous and nonhazardous. "We care about our CERS brothers and sisters. A 401K-type, defined contribution plan does not work for the public-sector employees in any capacity. It hurts recruitment and retention across the board. Our CERS coalition is an all-for-one and one-for-all approach."
Many lawmakers attended forums in their local communities. The coalition held meetings in Jeffersontown, Danville, Lexington, Corbin, Paducah, Owensboro and Florence. Lawmakers stressed they were thankful for the opportunity to hear from groups supporting separation and from CERS members. Senator Danny Carroll (R-Paducah) told the group in his hometown, "I do support separation of CERS." He also voiced concerns about a lot of the language in the PFM report. Senator John Schickel (R-Union) told the Florence crowd, "I supported CERS the last session and co-sponsored the bill (SB 226). I plan on supporting it this session." Senator Bowen told folks in Owensboro, "Getting to a solution that satisfies everyone is a tall hill to climb, but we are committed to doing that." Many others, like Representative Addia Wuchner (R-Florence) told members in the crowd, "I'm listening. For the next weeks and months, we'll all be listening."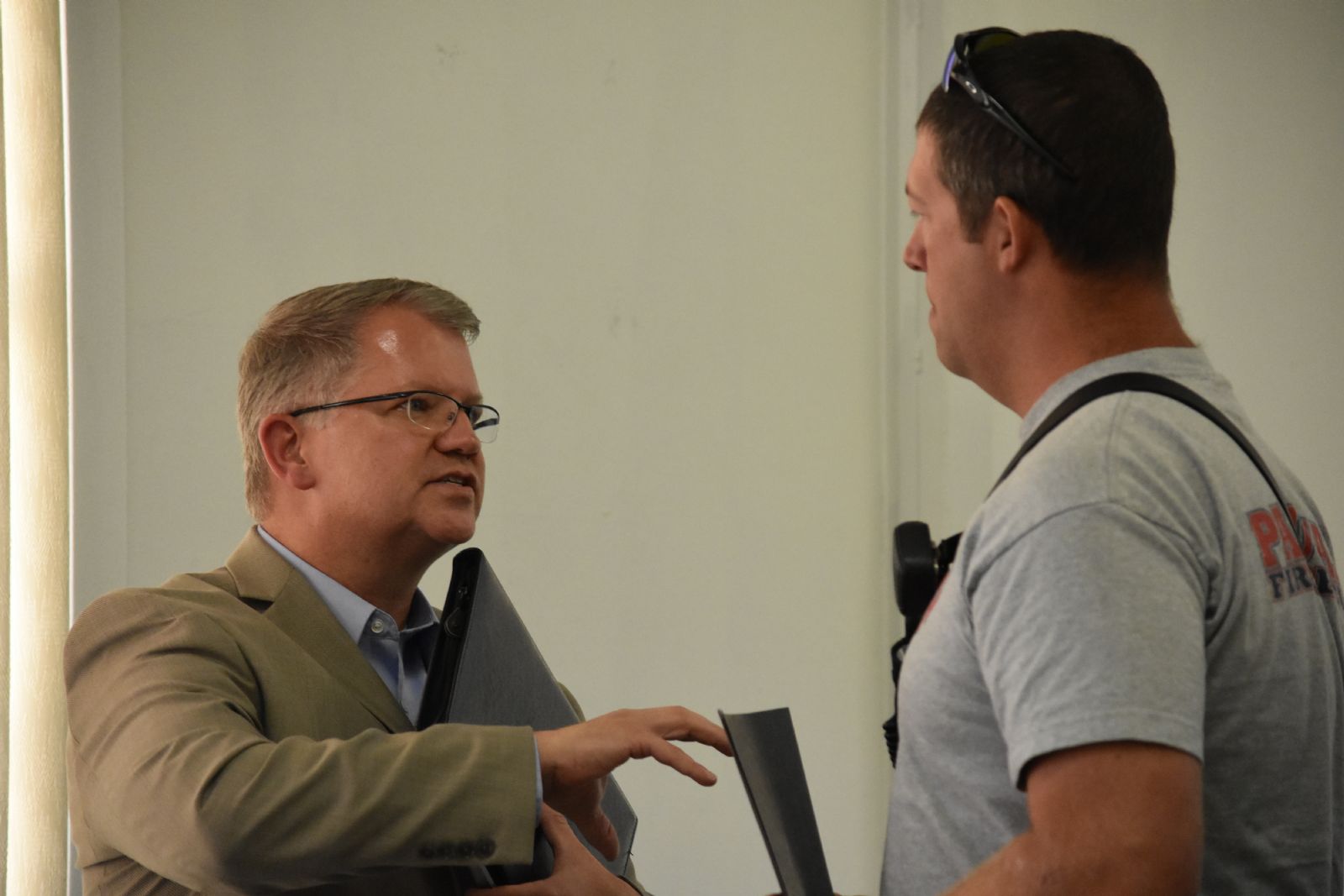 Members of the coalition urge everyone to reach out to their lawmakers to make sure their voices are heard. Elected officials want to know how their constituents feel about proposed pension reforms and CERS separation. It's important you let them know you support separation without structural or benefit changes. While the governor may call a special session, Carroll reminded those in the crowds, "legislators are the only ones who can write a bill." Contacting your legislator, through emails, letters, phone calls or social media is important so they know where people in their communities stand on the issue.
The separation coalition pointed out that removing CERS from the equation helps lawmakers focus on the real problem – the severe underfunding level of the Kentucky Employees Retirement System (KERS). Unlike KERS, the state appropriates no money to CERS. Separation helps keep it away from political problems, like the pension debate currently underway in Frankfort. "We want to ensure it's isolated from politics so when the next administration comes in and there is a different philosophical belief about retirements and pensions that we are not held at their mercy," said Carroll. "We want to separate the system as it is and move forward with our own administration."