Lawmakers Told Kentucky Needs Rules for Release of Police Body Camera Video
Posted on
August 23, 2017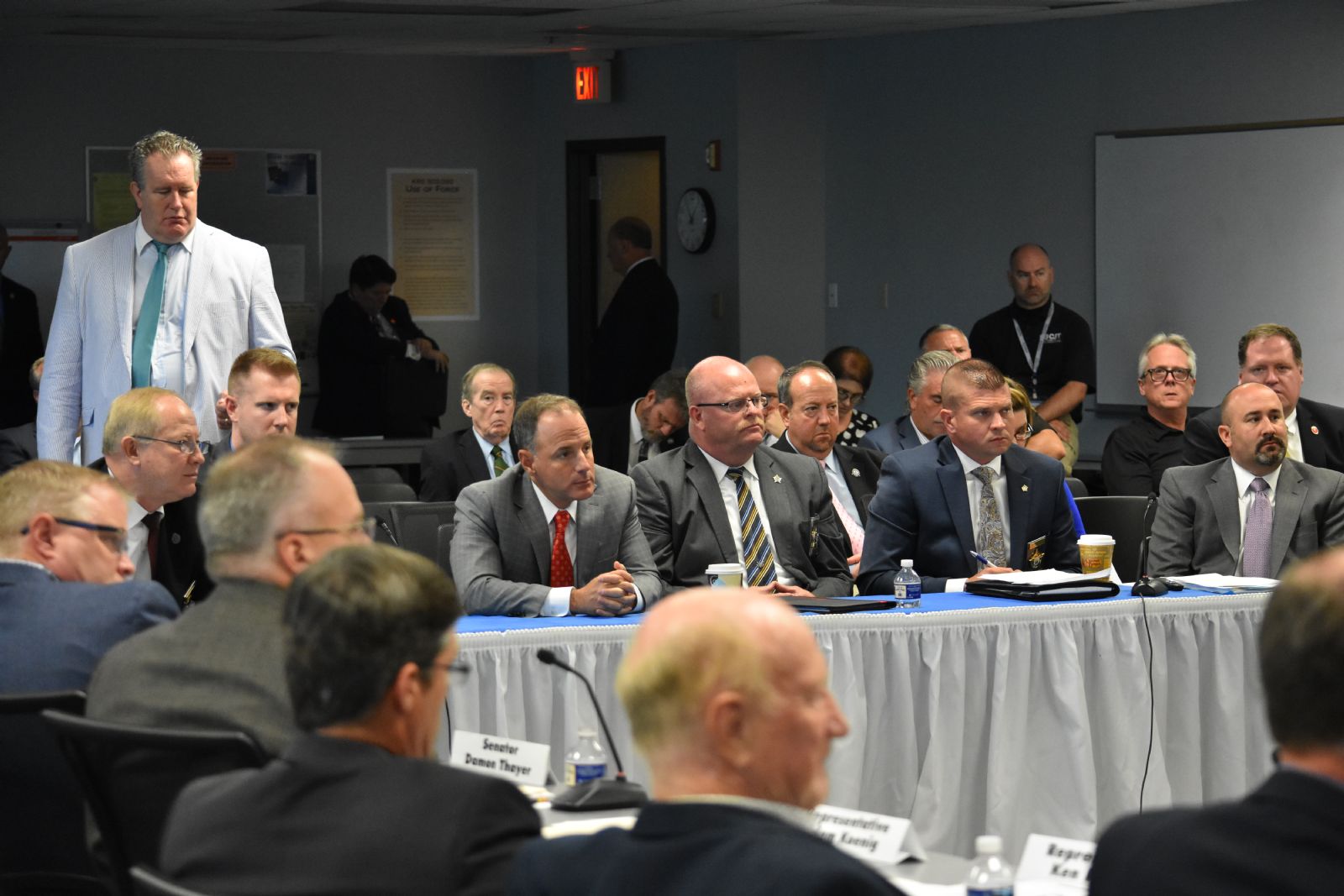 Police body camera footage should not be used for entertainment. That was the message today from a group testifying before a combined meeting of the Interim Joint Committees on Local Government and State Government. Lawmakers from both committees met at the Department of Criminal Justice Training on the Eastern Kentucky University campus in Richmond. The group testified in support of House Bill 416, filed in the 2017 Regular Session of the General Assembly to set guidelines for the availability of police body camera footage through Kentucky's Open Records Law.
Representative Robert Benvenuti (R-Lexington), who sponsored HB 416, testified with KLC Deputy Executive Director J.D. Chaney; Lexington Police Sergeant Jason Rothermund, president of the Fraternal Order of Police (FOP) Bluegrass Lodge; Bellevue Police Chief Wayne Turner, who represented the Kentucky Association of Chiefs of Police; Louisville Police Officer Nick Jilek, with the Kentucky FOP; and Campbell County Sheriff Mike Jansen, with the Kentucky Sheriffs' Association. The group made it clear law enforcement agencies in Kentucky don't take issue with body-worn cameras. Instead, the group voiced concern about the fact Kentucky is one of the last states to address the need for legislation dealing with when a video recorded with the cameras should be released and who should be able to obtain a copy of the video. The lack of policy could result in fewer departments using the cameras.
Body-worn cameras were praised by all members of the group as vital tools. "They can be helpful for training purposes, they can be helpful for accountability purposes and they can be very helpful to just get the facts out on the table as early as possible," said Representative Benvenuti. The representative and other members of the group warned lawmakers the video can also be exploited. "Unfortunately, in the modern media world the release of body camera footage ends up being passed around social media," warned Officer Jilek. "Body camera footage should not be used for entertainment purposes, which is what that ends up being, on the nightly news or social media sites."
Members of law enforcement testifying Wednesday also voiced concern about the lack of clarity for how they answer requests for body camera video under Kentucky's Open Records Law. "We cannot create a situation where officers are being pulled off the road to sit for hours and hours editing footage or redacting footage," warned Representative Benvenuti. "We need them out on the road, protecting all of us, not sitting behind a desk trying to interpret the Open Records Act." Officer Rothermund told lawmakers the Lexington Police Department began using body cameras just last year and has already had 124 open records requests for body camera footage. The department had to hire two additional staff members to handle the requests.
Campbell County Sheriff Mike Jansen said small departments like his worry about the costs. He told lawmakers the expense goes beyond buying the cameras, into storage fees and equipment and hiring additional personnel for editing and answering requests. Chief Turner agreed, testifying his department recently received a request from a television station for five years of video. He says that request will take his small department months to answer.
Chaney told lawmakers Kentucky is behind other states when it comes to dealing with the issue. He outlined laws already in the books in nearby states, like Illinois and Indiana. "Many states have very strict control," testified Chaney. He pointed out Florida exempts recordings taken in specific locations and "if a person has a reasonable expectation of privacy." Georgia uses the same "reasonable expectation of privacy" definition for its exemption. In Illinois, the video is only released if there are complaints of use of force or discharge of a weapon. Chaney told lawmakers the proposed Kentucky law would have the same exemption "for a video depicting an encounter between an officer and a person that involved a death or injury." He said the group is not proposing Kentucky become as strict as Kansas, which "says all these recordings are exempt as criminal investigation records."
Chaney said the proposed law attempts to balance the privacy interests of police, victims, witnesses and the public while also recognizing the public's right to know. It would create exemptions from release of footage like video shot in a private home or medical or correctional facility; video dealing with a sexual crime; video of minor children; video that shows a deceased individual, witness or confidential informant; any video that would release protected educational information; and video that reveals the location of domestic violence shelters. The law would not impact the rules of discovery in criminal and civil court cases and it would still allow criminal defendants and attorneys to access video, as well as anyone depicted in the video.
Several members of the committees agreed lawmakers need to look at the issue. Representative Rob Rothenburger (R-Shelbyville) voiced concern about how a lack of clarity in the Open Records Law could affect other public protection agencies. He pointed out search and rescue, fire departments and even 911 centers could all be utilizing video and live streaming soon.