23 Kentucky Agencies Call for CERS Separation Without Unnecessary Changes
Posted on
August 21, 2017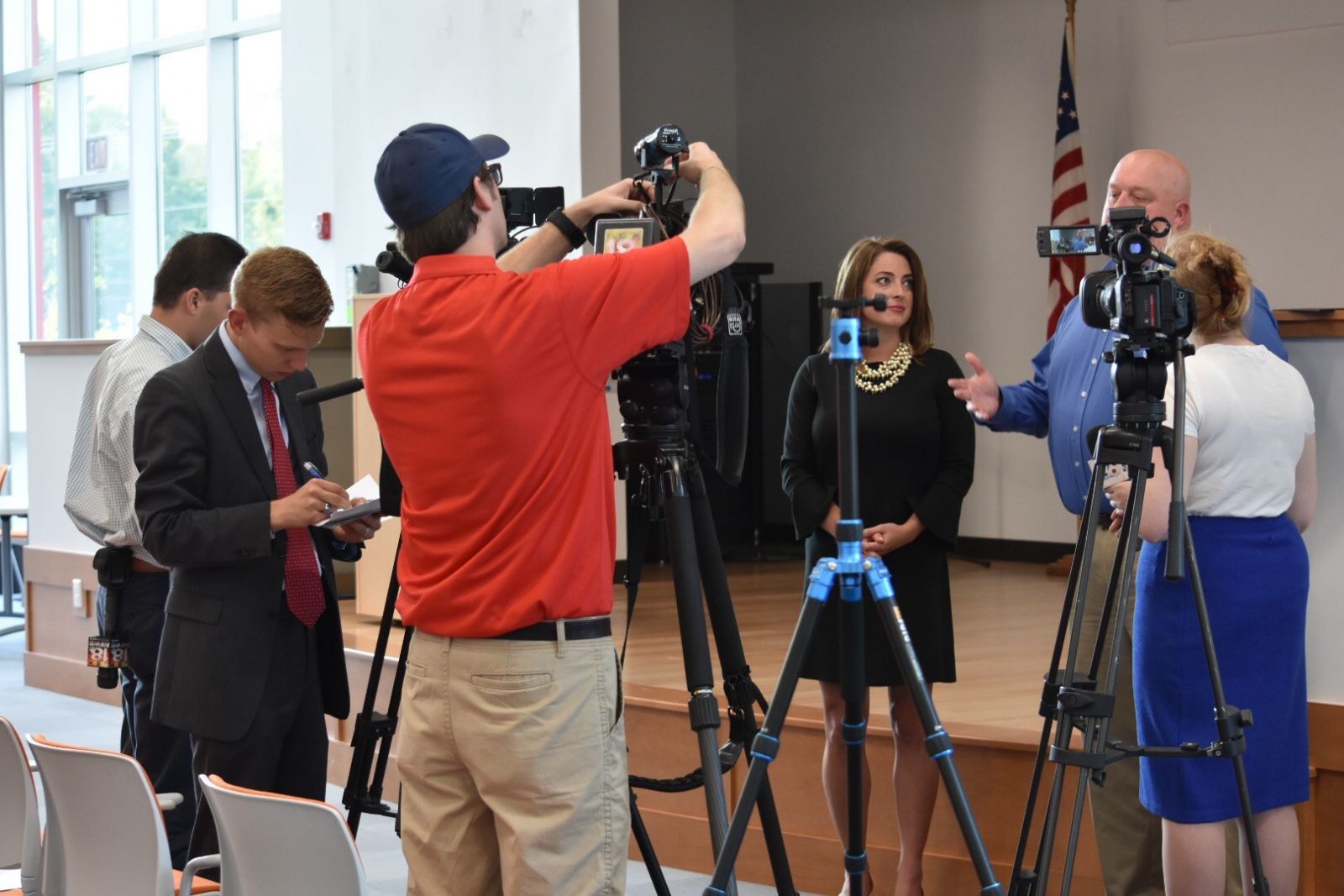 Kentucky League of Cities Governmental Affairs Manager Bryanna Carroll and Lexington Professional Firefighters IAFF Local 526 President Chris Bartley told members of the media Monday that a coalition of 23 Kentucky agencies has banded together to support the separation of the County Employees Retirement System (CERS) from the Kentucky Retirement Systems (KRS). Carroll and Bartley spoke to the media at the Lexington Senior Center where representatives from the coalition spoke to current and retired CERS members about the pension debate underway in Frankfort and how changes in a possible special session could impact them. This was the third forum held by the group.
The coalition continues to call on legislators for separation without changes to the current County Employees Retirement System plans. During the Lexington forum, Carroll said, "We do not want piecemeal separation to the structure or benefits because they're not needed for the future success of the CERS plan. All we want is simple; local control of local pensions. Let the people involved in CERS manage their own money."
Carroll stressed not only the importance of separating CERS from KRS but of keeping CERS out of the discussion legislators are currently having to make changes to the ailing KRS. "The County Employees Retirement System is not in peril. It's not facing insolvency," said Carroll. "In fact, it's on an upward trajectory of growth. So, making unnecessary changes to the CERS structure or benefits creates unnecessary risks for our members." The KRS Board of Directors lowered assumption rates for both CERS plans in July, however the firm October Three Consulting projects both CERS hazardous and nonhazardous plans will be 100 percent funded by the end of the current amortization period (FY 2045).
"The coalition is strong with members taking an all-for-one-and-one-for-all approach," said Bartley. "The groups banding together in the coalition have made it clear that they want separation without structural or benefit changes."
A bill was filed during the 2017 Regular Session by Senator Bowen (R-Owensboro) that would have separated CERS from KRS. The bill (SB 226) passed through the Senate State and Local Government Committee before Governor Bevin and Senator Bowen held a news conference in March announcing the bill was tabled so it could be considered during the special session.
Shelly Hampton, Director of Governmental Relations at Kentucky Association of Counties, also addressed CERS members during the forum, mentioning SB 226. "[SB 226] went through its Senate committee unanimously," said Hampton. "We were disappointed. We had worked very hard on this bill. We appreciate Senator Bowen and the legislators who continue to support this concept and keep the line of communication open, and we continue to feel that this is the best way we have to protect our members and employees."
The Kentucky legislature passed Senate Bill 2 during the 2013 General Session. While the Kentucky Employees Retirement System (KERS) remains severely underfunded, members of the coalition believe Senate Bill 2 stopped the bleeding with CERS. The bill created a hybrid-cash balance (also known as Tier 3) plan for anyone hired after January 1, 2014. Carroll stresses Senate Bill 2 "ensured a predictable, sustainable and viable system for all CERS employees and employers."
Members of the coalition are looking to the governor to involve CERS employers and employee groups in the discussion they are already having over future pension changes. "We look forward to an invitation from the governor and his staff to discuss their plans for CERS," said Carroll. "We're trying hard to make sure all of our members' concerns are addressed and we will continue to advocate for separation. But, we need our members to help us by getting involved as well. It's important that you contact your legislators and let them know where you stand."
The coalition consists of the following groups: Kentucky League of Cities, Kentucky Professional Firefighters IAFF, Kentucky Association of Counties, Kentucky School Boards Association, Kentucky Professional Firefighters Association, Kentucky Association of Chiefs of Police, Kentucky Fraternal Order of Police, Kentucky Magistrates and Commissioners Association, Kentucky County Judge/Executive Association, Kentucky Sheriff's Association, Kentucky Association of Circuit Court Clerks, Kentucky Coroner's Association, Kentucky Jailers Association, Kentucky Black Caucus of Local Elected Officials, Kentucky City/County Management Association, Kentucky County Clerks Association, Kentucky Government Finance Officers Association, Kentucky Municipal Clerks Association, Kentucky Occupational License Association, Kentucky Recreation and Park Society, Municipal Attorneys Association of Kentucky, Kentucky Association of Fire Chiefs, Kentucky Education Association.