State Releases Pension Website to Make Their Case for Reforms
Posted on
August 18, 2017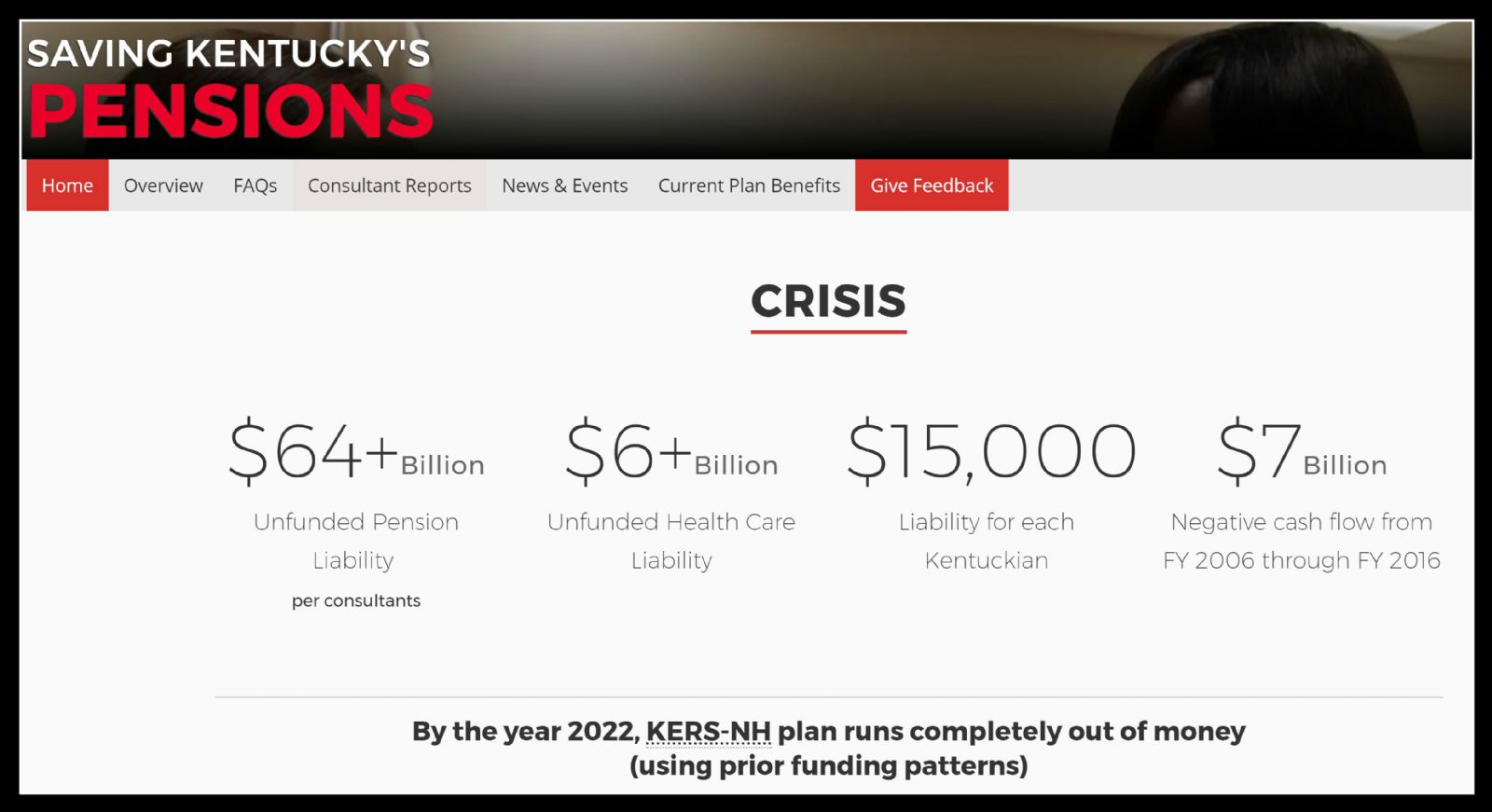 The state has a new pension website, one it says will keep Kentuckians informed on the public pension crisis. The website addresses funding shortfalls in the Kentucky Employees Retirement System (KERS) and the various reasons the state says the pension debt has climbed to one of the worst in the country. The website groups the state's eight pension plans into one collective crisis, without addressing the different needs of each plan. It is that type of broad-brush approach that has proponents continuing to advocate for the separation of the County Employees Retirement System (CERS).
Various sections of the new website, kentuckypensions.com, point to the total unfunded liability of the Kentucky Retirement Systems (KRS) plans. The website says the state has an unfunded pension liability of more than $64 billion. Further into the website the liability is broken down by plan. Per the state, the KERS unfunded accrued liability nearly doubles that of the County Employees Retirement System plan. The liability of the Teachers' Retirement System (TRS) is more than half the entire $64 billion bill. The website does point out, under the overview section, that CERS is almost 60 percent funded.
Despite the higher funding ratio of CERS, more than one-and-a-half times that of KERS, the state's website refers to all plans under KRS as in peril. The website says, "The status quo is not sustainable and is seriously threatening retirement security for all public-sector workers in Kentucky." A recent independent study of the County Employees Retirement System, by an actuary hired by the Kentucky League of Cities and not the state, shows that statement is not true for CERS. Even after the KRS Board of Directors lowered assum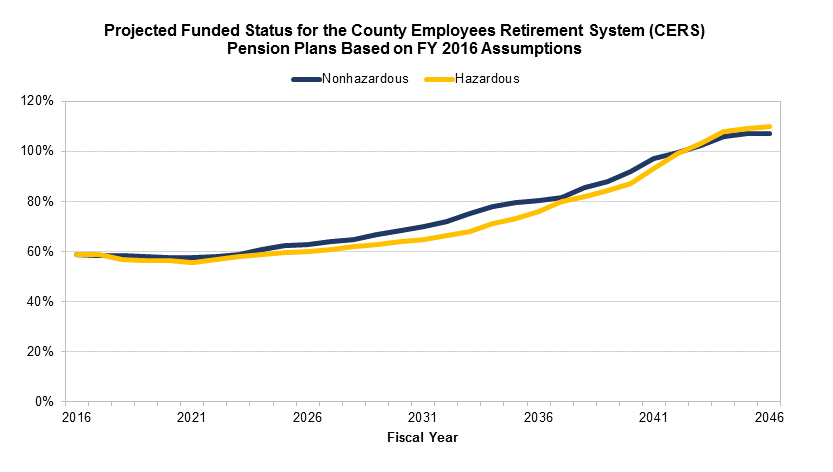 ption rates for both CERS plans in July, the firm October Three Consulting projects both CERS hazardous and nonhazardous plans will be 100 percent funded by the end of the current amortization period (FY 2045.) The chart to the right shows CERS does not need changes to the current structure or benefits.
Kentucky League of Cities Governmental Affairs Manager Bryanna Carroll says it's the lumping of CERS into one overarching KRS crisis that has KLC and 24 other groups advocating for separation of CERS from KRS. "The County Employees Retirement System is not in peril. It's not facing insolvency," pointed out Carroll. "In fact, it's on an upward trajectory." The state's pension website warns the Kentucky Employees Retirement System's nonhazardous plan could run out of money by 2022. Carroll points out, "It's that type of broad-brush approach, the idea the state may change the structure and benefits of all plans because one plan is in trouble, that points out the need for CERS to separate so employers can better manage their money and administer their employees' benefits."
Carroll also disputes the state's claim that previous changes have not fully fixed the problem. The Kentucky legislature passed Senate Bill 2 in the 2013 General Assembly. It created a hybrid-cash balance (also known as Tier 3) plan for anyone hired after January 1, 2014. The state's new website claims: "Shifting KRS's state employees (nonhazardous) to a cash balance plan in 2014 was a positive step that restrains the future growth of liabilities. But that change did not solve the plan's solvency problem for retirees and most current workers. TRS remains on an unsustainable path and needs to pursue reforms to ensure that all commitments made will be met. This must be done by putting in place a new, sustainable plan for future workers, focused on providing retirement security while reducing the exposure of state and taxpayers to financial risk." Carroll says the reforms in Senate Bill 2 did provide the redirection needed for CERS. "Once again, we see the state looking at problems for some plans and just raking all plans into the corrective action, even if they don't need it. Senate Bill 2 stopped the bleeding for CERS and ensured a predictable, sustainable and viable system for all CERS employees and employers."
Governor Bevin has said he'll call a special session this fall to deal with the state's pension shortfalls. The website notes State Budget Director John Chilton and his staff "will continue meeting with Kentuckians interested in reform, and soliciting comments and suggestions from individuals and organizations." The kentuckypensions.com website also has a section for people to provide feedback. The League and its coalition partners encourage CERS members and employers to make sure their voices are heard. "We look forward to an invitation from the governor and his staff to discuss their plans for CERS. We will continue advocating for separation of CERS so we do not unjustly hurt one class of employees over another. We do not want piecemeal separation to the structure or benefits because they're not needed for the future success of the CERS plan," said Carroll. "As Senator Joe Bowen (R-Owensboro) recently said in an interview with the League, 'It really makes no sense that CERS should be part of this problem.'"