Kentucky Representative Says Lawmakers Need to Defend Home Rule
Posted on
July 31, 2017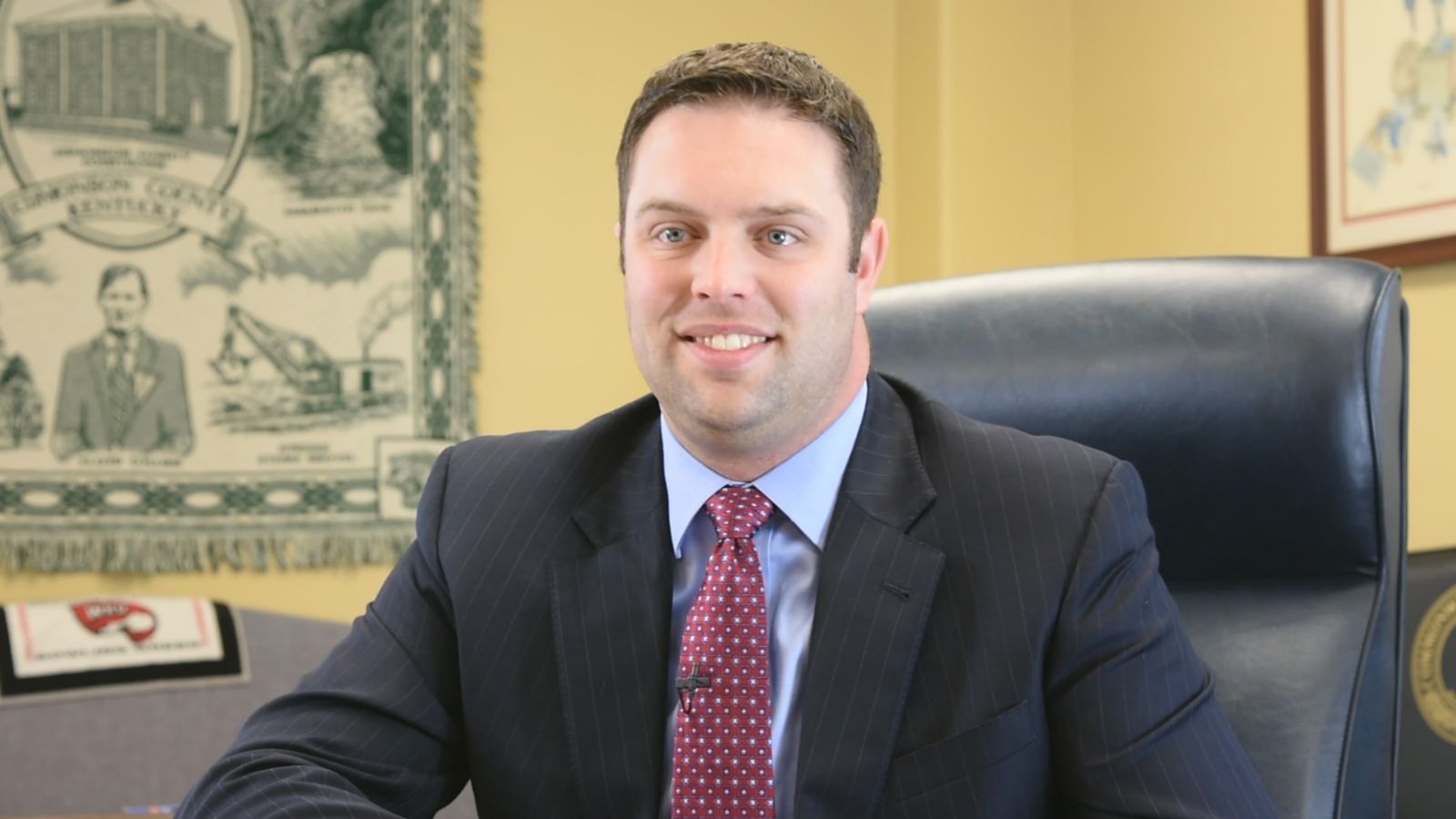 It's time Kentucky lawmakers show they mean what they say. To Representative Michael Meredith (R-Oakland), that means supporting home rule for Kentucky's 417 cities. Meredith spoke to the Kentucky League of Cities about pension reform and tax issues that impact cities. He says lawmakers in the General Assembly like to say they believe in home rule, but the upcoming special session and next year's budget session of the General Assembly could put that to the test. Meredith sees many tax issues being debated in Frankfort and talk of separating the County Employees Retirement System (CERS) from the Kentucky Retirement Systems (KRS) as topics having long-range impact on cities big and small.
One issue Meredith says city leaders should not stand for is the possible centralized collection of local taxes. "I think that local officials should absolutely be furious if that's a proposal that comes up, and I think we'll see local officials come up here with pitchforks and torches if that's the case," warned Meredith. "I think it's an idea of big brother trying to take care of the smaller government, and that's not what we need." He sees the idea of centralized collection as a prime example of lawmakers needing to support local control. "We all believe in home rule, or at least we say that most of the time, but it would be very similar to the federal government looking at us, as a state government, and saying: 'We're going to start collecting your tax for you and then just send you your part back.' If that happens, at either the federal and state level or the state and local level, that bigger entity – big brother – is going to take a cut of that." He also questions how state collectors could be sure they are collecting the correct amount. "They're never going to be able to get a true picture of what the tax being paid is and what it should be."
Another murky picture Meredith says lawmakers need to see more clearly is the proposal to update the state's gas tax formula. The formula, used to divide revenue between cities and counties, was created in 1948. The state's population has shifted in the past 69 years. As Meredith points out, "We're a more urban state than we've ever been." A proposal in Frankfort would change how new money is allocated: that's any revenue above the total collected in FY 2014. The proposal is to take road usage into consideration when distributing new money generated through the gas tax. Meredith sees it as a good compromise. "There are some counties that benefit from some of the changes that would happen. Some of the larger counties would benefit, as well as the city counterparts." He sees the proposal as a good starting point for lawmakers to talk about the need for change.
One change Meredith supports is the separation of CERS from KRS. He believes the state's pension problems should be at the top of every lawmaker's agenda. "The pension issue is the number one largest issue for our generation of folks in Kentucky government," he said. Meredith fears not dealing with the problem will drain the state's economy and hinder borrowing in the future. Separating CERS will give lawmakers the chance to focus on what it will need to fix the Kentucky Employees Retirement System (KERS), one of the worst funded in the nation. He sees the benefit to separation as a simple matter of weeding out distractions. "I think splitting CERS off, with its funding the way it is and having a stronger funding percentage, being managed more conservatively over the years and counties and cities frankly being required to have paid their freight over the years, is a good way to isolate the problem we see in KERS right now and try to figure out exactly what the problems were, how they contributed to where we're at as a whole today and then how we can fix them as we move forward into the future." He also sees separation as a way to protect the better funded CERS plan from future changes designed for the troubled KERS system.
Pension and tax reform are expected to be the focus of a special session later this year. Governor Bevin has told lawmakers he'll call them back after August 15. Representative Meredith says that's all lawmakers have been told. "I don't think anybody really has a grasp on exactly what the executive branch is proposing and exactly what we may be tackling in a special session." He believes that's why House Speaker Jeff Hoover (R-Jamestown) is calling the House back next month. "I think it's the way for the speaker to get everybody here in one day and at one time to try to bring everybody on board with what's going on." Speaker Hoover called members to the Capitol August 16 but has indicated he may change the date to August 30. The PFM Group, hired by the state at Governor Bevin's request, will present the final part of its study into the state's pension systems to the Public Pension Oversight Board on August 28.
While pension and tax reforms are dominating the conversation in Frankfort, Meredith believes other issues are on the horizon that impact cities. He wants to see more done to equalize city classes. He believes modernization will be a big issue for cities; modernizing publication requirements was before the Interim Joint Committee on Local Government, which Meredith co-chairs, just last week. He also expects the legislature to continue to focus on issues surrounding policing issues and enforcing codes that help keep cities clean. "Hopefully, as we move forward, we can take on some more of those controversial issues to get everybody back on a level playing field and allow cities to really do things at the local level," he said. "We all talk about, all the time in the General Assembly, that we believe in home rule and this is a way for us to truly prove it."