GIS Mapping Training - June 27, University of Kentucky, Lexington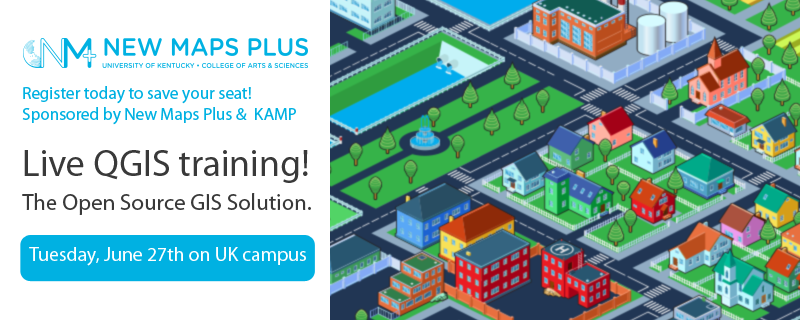 The University of Kentucky Department of Geography wants to share the news about an exciting GIS training and professional development opportunity sponsored by the New Maps Plus program and the Kentucky Association of Mapping Professionals (KAMP).
On Tuesday, June 27th the will be hosting a live full-day training focusing on the QGIS open source GIS software, here on the campus of the University of Kentucky. Register today to save your seat!
Title: QGIS: Using Open Source GIS for Geoprocessing and Mapping
When: Tuesday. June 27 from 9am-5pm
Where: University of Kentucky campus, GIS and Spatial Analysis Lab - Whitehall Classroom Building, Room 311 and 313
Cost: $50 for non-KAMP members, $25 for KAMP members
In addition to this live training opportunity, the New Maps Plus program offers online courses in open source mapping solutions and JavaScript programming for web map development and design. Please check out our online offerings below and let us know what you think!
MAP 671 – Intro to New Mapping - focuses on a desktop GIS workflow for web production.
MAP 672 – Programming for Web Mapping - introduces students to JavaScript, HTML and CSS and is perfect for those who have experience in a desktop GIS environment, but have not begun web mapping.
MAP 673 – Design for Interactive Web Mapping – incorporates cartographic principles and web programming to develop high-quality interactive web maps.
Thanks and please email with any questions regarding the live training or online courses!
Matthew Zook, Ph.D.
Professor and Director of GIS Initiatives
Department of Geography, University of Kentucky
Patterson Office Tower, Room 817
Lexington, KY 40506