Tips for Preventing Slips,Trips and Falls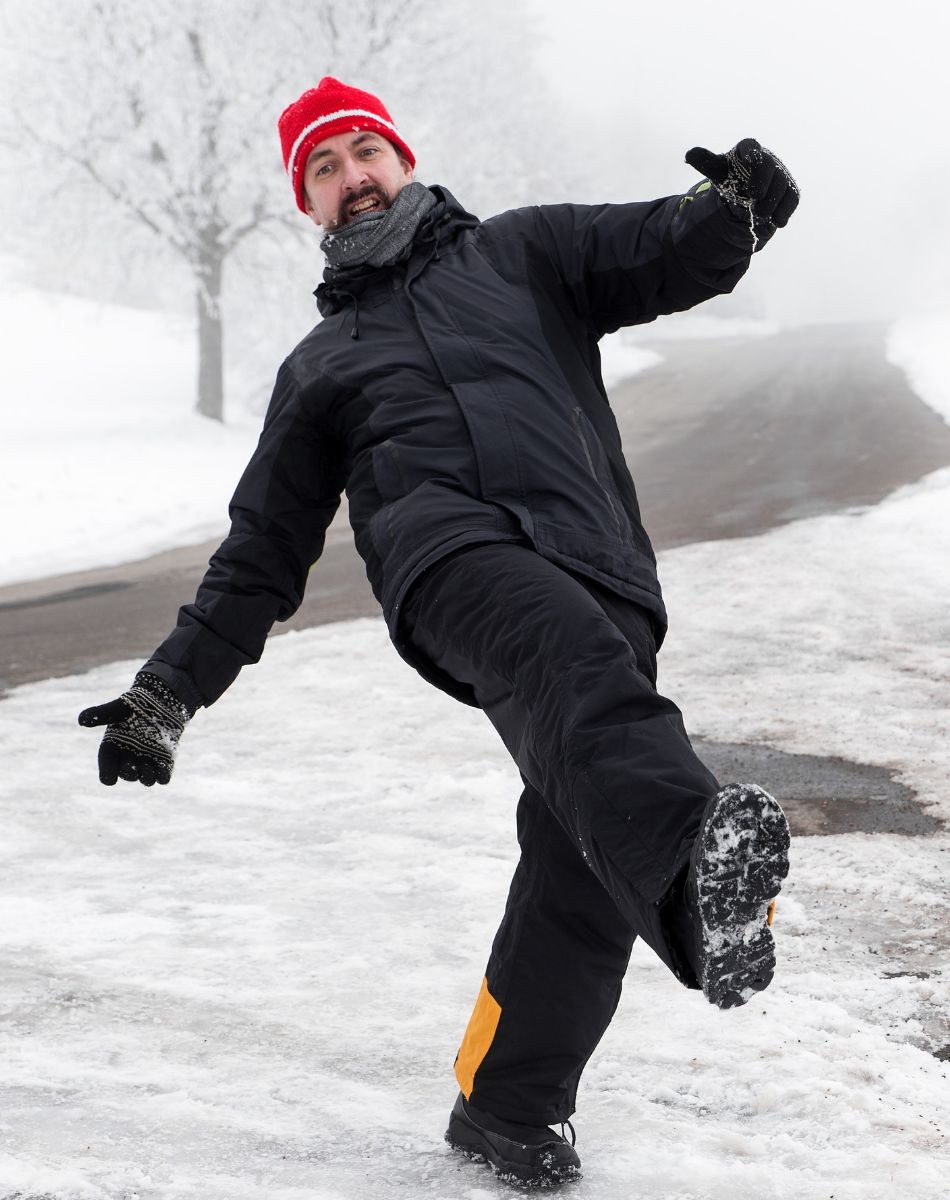 Don't Slip Up! Slips, Trips and Falls
Slips, trips and falls constitute the majority of general industry accidents. They cause 15% of all accidental deaths, and are second only to motor vehicles as a cause of fatalities. For KLCIS Workers' Compensation members, all slips, trips and falls account for 468 injuries (21%), and over $4.8 million (27%) of the incurred loss in our insurance program over the last two years.
As you are aware, the last two winters have been severe in Kentucky with below average temperatures and above average snowfalls. Slips, trips and falls on ice and snow have been severe, accounting for 167 injuries (35% of the total slips, trips and falls) and $1.5 million of incurred loss (31% of the total slips, trips and falls).
Defined
A slip occurs when there is too little friction or traction between your footwear and the walking surface. In most slip events where a worker is walking, the worker's heel on the front foot slips forward as the individual is transferring weight causing the worker to fall backwards. The mechanics of a fall on snow or ice are no different, except that employees should be able to anticipate the problem due to weather conditions and take appropriate measures to prevent falls.
Causes
Falls in the winter on snow or ice are caused by primarily two conditions:
Slippery Walking Surfaces - This can be caused by the presence of snow or ice. This can either be the original accumulation, or ice from melting and refreezing due to temperature variations.
Inadequate Footwear – Sometimes this can be "dress shoes" to meet dress codes or expectations, or casual footwear that has very little traction.
The Kentucky League of Cities Insurance Services (KLCIS) claims experience in winter slips and falls shows that many of the claims are office workers who fall while walking from their vehicles into their worksite.
KLCIS Safety Tips
Prevention Methods
1. Mitigate slippery walking surfaces.
When possible, delay opening of the office until maintenance personnel have the opportunity to clear snow from parking areas and walkways. The work will go much faster without vehicles in the way, or foot traffic packing down snow. Keep supplies of salt near doorways so employees can easily reapply it.
2. Institute "dress down days" during winter weather events.
Most people think they can get from their vehicle to the building in any kind of footwear and will select their shoes based on what they are wearing, not the walking conditions. At KLC, we "dress down" when the weather is bad. We have found that employees are far more likely to wear boots with high traction soles, trail runners, or athletic shoes if they can wear jeans vs. business attire. These types of footwear are far more preferable to dress shoes with slick leather soles, or pumps. Information on how to create "dress down days" can be found in the "Resources" section after logging onto klcis.org.
3. After heavy snows, consider closing offices for the day.
Nonessential employees may come to work and find no safe place to park, or get stuck. In snow emergencies, it is better to use the available resources, such as parking and snow removal, for "essential" or "emergency" workers, such as public works, fire, and police.
4. Provide YakTrax or similar nonslip shoe appliances for all employees.
This type of equipment should be essential personal protective equipment (PPE) for employees required to work outside. Providing them to office employees has great benefit to the organization as well. Besides preventing compensable injuries in the workplace, you may also prevent injuries to your employees at home, such as when shoveling their driveways and sidewalks. These injuries increase claims on your health insurance, and also have a negative effect on that employee's productivity while they are healing.
YakTrax website. You can Google "YakTrax" for purchasing resources.
5. Control individual behavior.
This condition is the toughest to control. Once you have policies in place and provided PPE, enforce its use!