Congratulations to the City of Flemingsburg - now a Certified City of Ethics!
Congratulations to the Flemingsburg, our latest Certified City of Ethics!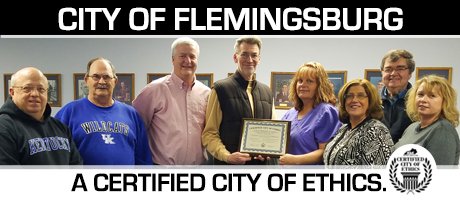 Certified City of Ethics - Fleminsgburg Pictured are Flemingsburg Councilman Van Alexander, Councilman Scott Manning, Councilman Ricky Hurst, Mayor Martin Voiers, Councilwoman Kathy Moore, Councilwoman Georgianna Sparks, Councilman Meredith Story and City Attorney Kim Razor.

What do residents and businesses look for in local government?
Efficiency, inclusiveness and ethical leadership.
Aspire to become a KLC Certified City of Ethics.

Download information and application.

Certification under the Kentucky League of Cities (KLC) Certified City of Ethics Program is a way to recognize cities and city officials that have adopted principles and procedures that offer guidance on ethical issues, and a mechanism to resolve complaints at the local level. In addition, this program increases public trust and confidence in city governments and their services through the training and recognition that this program promotes.
Administered by KLC Member Legal Services, any KLC member city may apply for this multi-faceted certification program.
TO EARN A "CERTIFIED CITY OF ETHICS" DESIGNATION, A CITY MUST TAKE THE FOLLOWING STEPS.

Cities should review the KLC model ethics ordinance* and make any changes to their current ordinance that they feel necessary.
Send updated city ethics ordinance to be reviewed by KLC to be certain that it meets minimum standards set out in KRS 65.003.
Adopt a resolution establishing the six ethics principles to govern the conduct of your city's officials and employees and send along with application to KLC.
All elected officials and ethics board members must complete intense training on City Ethics Ordinance provided by KLC.
Achieve Certification

* request a copy of the model ethics ordinance in WORD format by calling Andrea Shindlebower.
Learn more about the program by contacting
Andrea Shindlebower Main
Personnel Services Specialist
800.876.4552