IT in a Box Keeps Getting Better!
Who guarantees IT services based on your expectations? WE DO!
Read more here.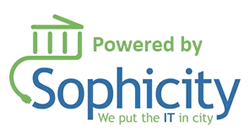 Read the Sophicity City Smart Technology Blog!

What is IT in a Box?
Through Sophicity, KLC's longtime IT consulting partner, "IT in a Box," has been providing cities with state-of-the-art information technology tools supported by experienced, highly skilled IT professionals since 2012.
For one monthly fee, a city will receive cybersecurity and computer maintenance, 24x7 helpdesk support, data backup and unlimited offsite data backup storage for disaster recovery, records / document management, email, Microsoft Office for desktops, video archiving, policy & compliance, a custom designed website, and vendor management."
Unlike other IT providers, Sophicity's specialty is cities... that's what they know and what they do.

Call Sophicity to learn more about how we can help get your city on the latest IT products to ensure your valuable data is backed up and your system is secure.