IT in a Box Keeps Getting Better!
Welcome to our NEWEST Member - the City of Midway!
Who guarantees IT services based on your expectations? WE DO! Read more here.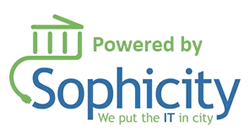 Read the Sophicity City Smart Technology Blog!

What is IT in a Box?
Through Sophicity, KLC's longtime IT consulting partner, "IT in a Box," has been providing cities with state-of-the-art information technology tools supported by experienced, highly skilled IT professionals since 2012. For one monthly fee, a city will receive a website, data back up and offsite data storage, email, document management, Microsoft Office for desktops, server and desktop management, vendor management and Helpdesk support seven days a week. .
Unlike other IT providers, Sophicity's specialty is cities... that's what they know and what they do.

Prior to offering this service to all KLC members, the cities of Morehead and Lyndon served as pilot cities in 2012-2013. Each city was at a different place with its IT infrastructure and found significant benefit through the service. Fees are based on the number of employees and the size of the city's technology infrastructure, making "IT in a Box" affordable for city budgets to suit the needs of our smallest to largest members.


Another reason to be concerned about your data!

House Bill 5
House Bill 5, passed during the 2014 General Assembly, creates new sections of KRS Chapter 64 to require any public or nonaffiliated third party that maintains or otherwise possesses personal information, regardless of the form in which is maintained, to implement, maintain and update security procedures and practices, including any appropriate corrective action, to protect and safeguard against security breaches effective January 1, 2015. Review IT in a Box Services.

Call us to learn more about how we can help get your city on the latest IT products to ensure your valuable data is backed up and your system is secure.